The second Saturday in June is the annual old car festival in the village where I live. The village is about 2,500 people and thousands pack downtown to view all the cars and trucks of various ages, makes, and models.
This is all just a short distance from my house, so I walk the lines of cars and take pictures to add to my collection. I can afford to collect lots of cars via photograph/cell phone.
The big anniversaries of the Model T, Edsel, Mustang, and others are fun each year to see all the cool cars.
I remember a show from when I was a kid, called Bearcats!, starring Rod Taylor, about a couple of guys going around doing good in a Stutz Bearcat. I have always wanted one since I saw that show. I have not seen the show in re-runs, but some scenes are stuck in my mind. They had one at the car show a few years ago. It was look, don't touch. I can't help but think of this model of car when the car show comes to town.
I don't recall if it was last year, or the year before, but one guy saw me admiring an old car of a different variety, and he let me sit behind the wheel and took my picture on my cell phone for me.
I have seen all kinds of vehicles of all shapes and sizes. Some give ideas for spy RPGs, like Top Secret, or Victorian era/steam punk, military or science fiction RPGs.
If you think about it, nearly anything you see, do, and read can have an impact on how you GM or play a character. Many things influence us that we are not even aware of.
I wrote the above on Friday. Now that I am back from walking around the show today, here's a few pictures and an interesting discovery.
The area Corvette club has a strong presence each year.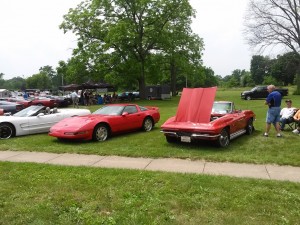 Google photos made a panorama for me. Interesting.

The streets were not packed, due to the rain in the morning and the potential of more rain this afternoon.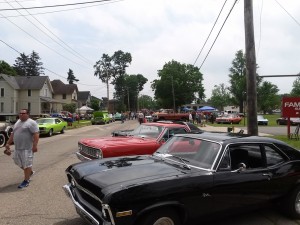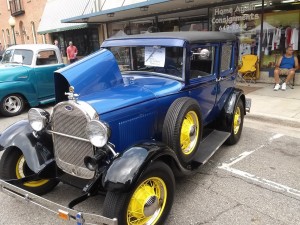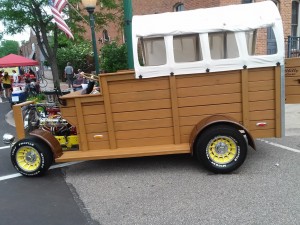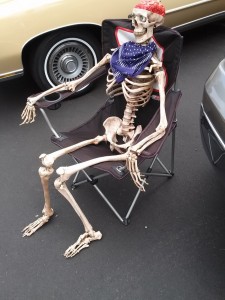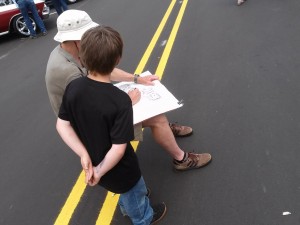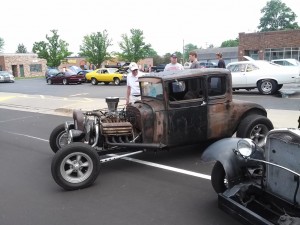 I like old jeeps.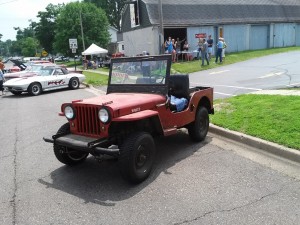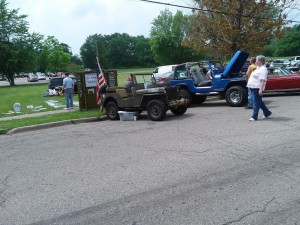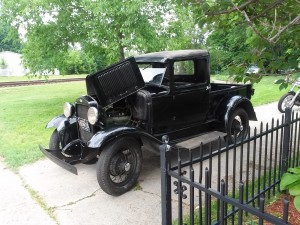 My dog, Lucy, and I were almost home, when I noticed a harpist on the corner of my street. An older couple stopped by as I was listening to her play. The man asked if she built her harp, and she said yes! I guess that is a common thing. How many bards build their own instruments?
I picked up one of her cards, after making a donation. He card advertises herself as the Barefoot Harpist, and she does weddings, special events, and gives lessons. I mentioned that I didn't expect to have a harpist on my street, and she asked which house was mine, she lives at the end of my street! Small world! She just graduated high school and is the same year as my youngest son. He moved out of state to live with his mom, but I know they know each other. I just didn't recognize her. She is going to take a year off from school and go backpacking in Ireland. She took lessons in New Zealand and some other country before that. Very cool!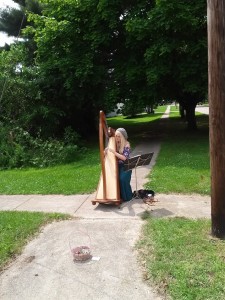 What community events do you have that give you ideas for games, such as undead guarding cars, or harpists on the corner who make their own harps?