I recently placed orders at Amazon, Lulu and DriveThruRPG, I got the last of the Amazon order on Friday and the others on Saturday.
I'm not doing an in-depth review, just touching on what I got.
From Amazon, I got a good deal on a copy of Manual of the Planes for AD&D 1e. I never had the book, but I have the PDF and wanted a "complete" set of the AD&D manuals. By complete, I mean complete to me. That is, I now have all the AD&D manuals that I want. The only exception is if I find inexpensive Players Handbooks that are good for use at the table. I think that I'm up to three table copies, but would like to boost that a bit.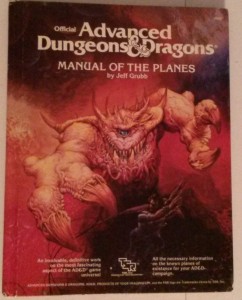 Earlier in the week, a separate shipment of my Amazon order came, with Playing at the World [Aff link],by Jon Peterson. So far, I've gotten through the introduction, acknowledgements, and the fist few sections of chapter one. As I write this on a rainy Saturday, I'm leaning towards more reading, since I can't do my yard work and don't feel motivated to do inside chores.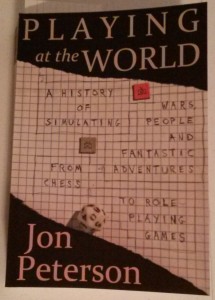 I also got two copies of a board book, one for my granddaughter, and one for me: C is for Cthulhu[Aff link]. There was a Kickstarter for this. I didn't learn of it until well after it. I think it is a neat idea. I also can't wait to see the look on my son's face tomorrow* when I give it to them. He has read some H. P. Lovecraft, he got a book several years ago from the local library's annual sale.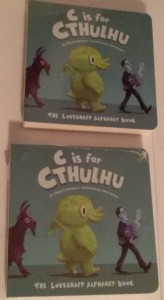 Here's a picture of my granddaughter with her new book. Her parents were geeked out about this book. She was taking a nap when I arrived, and their dog barked and woke her up just a few minutes into it, so she wasn't as exited. However, I did read it to her several times and she enjoyed it.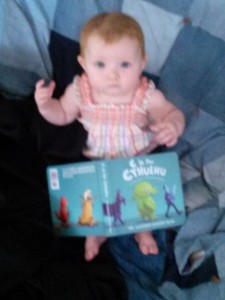 The Lulu order contained Revised & Expanded Petty Gods and Metamorphosis Alpha. I did not contribute to Petty Gods, but I already have the PDF and with a 30% sale Lulu had, I jumped in.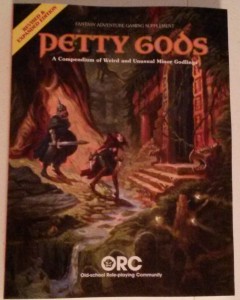 Metamorphosis Alpha is the original rules, but with James Ward's minor changes on the cover and title page indicating it is his. When I saw it and picked it up and started flipping through the pages, it brought me back to when I had my copy of the game. I can see myself sitting in my parent's basement way back in high school, reading the rules and running one of the few games we had. This is just like so many of the rule books back then. It reminds me of all those other TSR games in the early 1980's: Gamma World, Top Secret, Boot Hill, Gang Busters, Star Frontiers, etc. We played them all, but kept coming back to AD&D.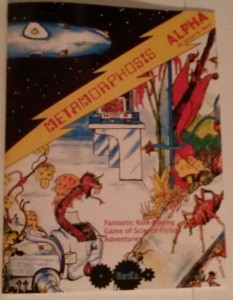 I did not back the Metamorphosis Alpha re-print Kickstarter. I did get the PDF from DriveThruRPG and print it out. I also backed the Epsilon City Kickstarter and plan to add the softcover MA re-print, but I didn't want to wait for that to arrive in a few months.
I also bought this to help Jame Ward with his recent and ongoing hospital stay. This is on top of my boosted pledge to the Epsilon City Kickstarter and a donation to his GoFundMe. #WardenCrew
From DriveThruRPG I got the Portrait GM Screen, and the OSR Sci Fi GM Screen for White Star. I already had the PDF of the Sci fi GM Screen, but if I bought the Portrait GM Screen, they would just give me a copy of the Sci Fi GM Screen. I used up all of my credits and then some to get this, so if you want to buy something from my affiliate links, please do, so I can get more things to review!
The Portrait GM Screen is actually TWGS – The World's Greatest Screen, by Hammerdog Games. Hammerdog has free inserts that you can download from their site. This screen has a bit of heft to it. It reminds me of a few executive style notebooks I have. The inset pockets are tight and it might be a challenge to switch things up and use inserts for another game. With binders we have at works with such insert pockets on the cover, the ink gets stuck to the plastic and it is a challenge to get the inserts out. I'm not sure if it is safe to leave fancy inserts in. Home printed inserts, or copy paper inserts, the ink will most likely stick to the pocket sleeve. Unless this plastic/vinyl is a different quality and ink does not stick to it, I wouldn't leave inserts in there for an extended period of time, unless you planned to play only one game, or get a new screen for each game. The latter would get quite expensive.
I'll have to look for long-term reviews about the issues of ink sticking to the sleeve pocket, etc. Hammerdog does have a page on caring for the screen. I'm curious to see if anyone who has followed their instructions has had any issues. I found this unboxing video of both the portrait and landscape sceens on YouTube.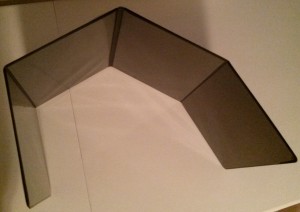 The SciFi GM Screen is visually appealing and the card stock is about the same grade as that of the Metamorphosis Alpha GM Screen that I reviewed here. It has a couple pages of tables and a sector map and mini adventure for the GM and another one for the players. This is an interesting idea. I have the PDF of the GM Screen, but I have not thoroughly reviewed it. I'm used to seeing combat tables and other things on GM screens. I know with the Ascending Armor Class, one doesn't need combat tables. Somehow, I feel a table or two that might be relevant to play is missing. I will have to review my PDF copy of White Star before I stick to a claim one way or the other.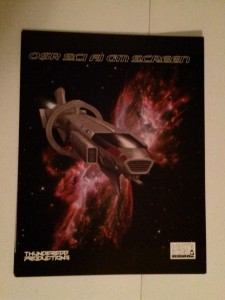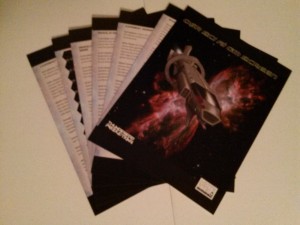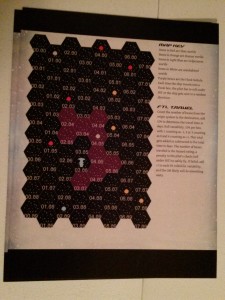 * I wrote this on Saturday, will give it to them Sunday, and set this article to publish Monday.