Well, here I am in my hotel room in Lake Geneva, WI. I got into town about 12:30 local time and first found the location of the con, since I am staying off site.
I didn't realize just how big this combined property is, with various other places to stay, many appear to be as big as the Grand Geneva itself.
I was a big surprised to find a sign saying event location parking here, i.e. if you are not staying at the Grand Geneva, you have to park here. It announced a shuttle service. It is down a hill from the convention center, so if the weather turns bad, it will be "fun" if one elects to walk rather than wait for a ride. I found the front desk and asked if I was correct about that being where to park, and was told "yes".
It is not a problem, other than an inconvenience for me personally, based on how much stuff I brought with me. I was hoping to get some things signed, but didn't realize I'd have such a hike to haul it. I did get a cheap folding dolly on the off chance I had to use it to haul stuff a long distance. I'll just have to plan things out and determine when is best to approach people. I have a lot of unscheduled time, so it should not be a problem to haul that stuff. I do know a couple of vendors, so I might be able to stash my stuff with them.
Yes, I used my busy schedule as an excuse not to do more due diligence.
So let's pay the Joesky Tax and use this as an example of how adventurers should plan their trips with all of the available knowledge of those who have been there before, to alleviate and minimize the unexpected.
On to the fun stuff. The planners were busy going through stuff in boxes, like t-shirts, that will be at the registration booth
I then found at the end of this hallway it had a 'T' junction and to the right was some unrelated meeting in one room, and across from that were several people in a coat check room. I recognized one as Luke Gygax. I've never met him, but have seen his picture online. I knew he was busy, so I didn't take the time to meet him.
One cool thing, is on the floor were several posters of covers of various modules and the TSR Lizardman logo, plus banners for KOTD and others.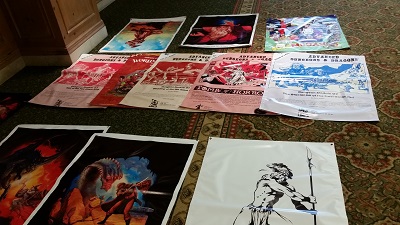 I then took the hall to the left and at another 'T' followed the signs to the right to the registration desk. On the way, I noted how the squat, square structure indicated this was probably built in the late 60's/early 70's, or at least designed in that time frame.
I also noted the squat, squarish hallways were very dungeon like. The ceiling might be 10 feet, but the hallways were 20 feet or more wide, with support pillars at one 'T' intersection.
As this building was once a Playboy Mansion, there was a display of items from that era of its history. (Yes, there's a mirror in the back of the display case, so if you take a picture, you're in it too….)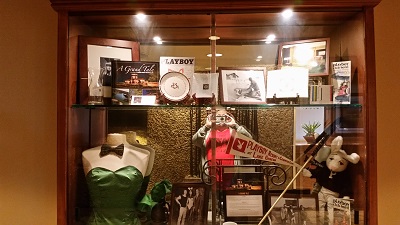 It looks like things are quite busy, and will only get busier as the day wears on.
It would be cool to get in on some impromptu gaming, but this is Wednesday, and tonight is Session 98 of the Wednesday night AD&D game I'm in on Roll20. Session 100 will be the week of the 2nd anniversary of the campaign. I'm the only player who has made every session, although had to be late to a couple when travelling for work, or the day after my granddaughter was born last year. One of the players is caught in a time trap, that if we can't figure a way to save him, he is dead.
I look forward to finding out if we can beat the trap, or lose the only character in the group, besides mine, who has been here since session 1. That other player, Antony, and myself are the only players who have stuck with it since session 1. If Antony's character, Axel dies, we loose our 6th level dwarf fighter. My character, Thorfus, is a 7th level dwarf fighter.
What is so cool, is that this campaign was Antony's introduction to playing table top RPG's. Had he not told anyone he was a novice, we would not have known. He is a natural, and is now running his own campaign, with our DM, another player, and myself from the Wednesday night game. Better yet, Antony lives in England and games in what are for him the wee hours. He is not upset about the possibility of losing a character, who would be 7th level by now if not for a wight.
Antony sees the death of his character, whether by the time trap, or those who trapped him as a glorious story to tell. All this while I feel bad that I can't think of a way to save him…. Anthony has remained quiet, not meta gaming his thoughts, so he is reveling in the anguish of the other players. The worst part is that Antony started a new job and is travelling and may not be able to join the game when we learn the fate of Axel. Just a few short hours until we learn what happens…..
[Updated with pictures and links to the rest of the series.]
All my articles on GaryCon 8: GaryCon Day 0, GaryCon Day 1, GaryCon Day 2, GaryCon Day 3, GaryCon Day 4, Gary Con Wrap Up