Day one of GaryCon 8. I found Jeff Easley in the dealer's room and got him to sign my DCC book on one of the pieces he did in it. I also asked him to sign my program booklet on his blurb in it. I then repeated that as I came across different people in the book.
I then located Jim Ward, across from Jeff Easley, and he graciously signed his blurb in my program booklet. He was also kind enough to wait while I ran to my car to get things for him to sign. He was surprised at what I had, but let me drag each piece out. Metamorphosis Alpha re-print from Lulu, the MA GM screen, Gods, Demi-Gods, and Heroes, my two Dieties and Demigods with Cthulhu, Greyhawk Adventures, and Legends & Lore, and finally the 2nd edition Gamma World I bought last summer.
Lou Zocchi had the clear crystal dice, similar to my original Game Science set that a couple disappeared when I think a kid at a con accidentally got a couple of mine. Lou was kind enough to sign my program and my 50 Things To Do With A d50.
Tim Kask came by the Game Science booth and was kind enough to sign his place in my program, and his forward in my hardcopy Swords & Wizardry.
Next I got Tom Wham and Ernie Gygax to sign their blurbs in the program. On the way in yesterday, I realized that I left my copy of Awful Green Things From Outer Space with my other board games, since I keep them separate from my RPG materials. Just a matter of storage. Oh, well….
I signed up for mostly panels on things that caught my interest, and only one game for the whole weekend. I knew I'd get in on other games.
Lou Zocchi asked me to go get him a program after he signed mine, so after I took all my newly signed books to my car, I did so. While there, I got recruited to play in the Castles and Crusades Tournament, starting in ten minutes. I had never played C&C, and this was only the second RPG tournament I had ever been in. The first one was 30+ years ago at ConQuest in Kansas City, MO.
The tournament did not have a lot signed up, so we started late, between delays in finding the table and the guy who recruited me getting enough other players. It was fun, and different. I just went to long without eating, and ran out of energy, until the table side service finally showed up, and hour after I asked a server to find someone to take my order.
Next I attended the Podcast Panel, with hosts from Game School, Gaming and BS, Cube of Death, Drink Spin Run, and Dead Games Society. +Satine Phoenix was one of the 8 panelists and only woman. Afterwards in the bar, I commented to her that the ratios of women to men seemed about right, and she pointed out that it is closer to 50/50 but a lot of women have husbands and boyfriends that don't want them to play, or do things to discourage them, like kill off their characters. She gets a lot of women players out in Hollywood. We had an interesting conversation going, but the conversation got derailed with others coming up to speak.
Satine gave a bunch of us these d20 rings, that you can wear and roll a d20. Very cool.
I then asked for a picture, since others were getting pictures. I asked her if it was OK for me to post the picture on my blog.  She said, "Sure, what's the name of your blog, we'll do an intro."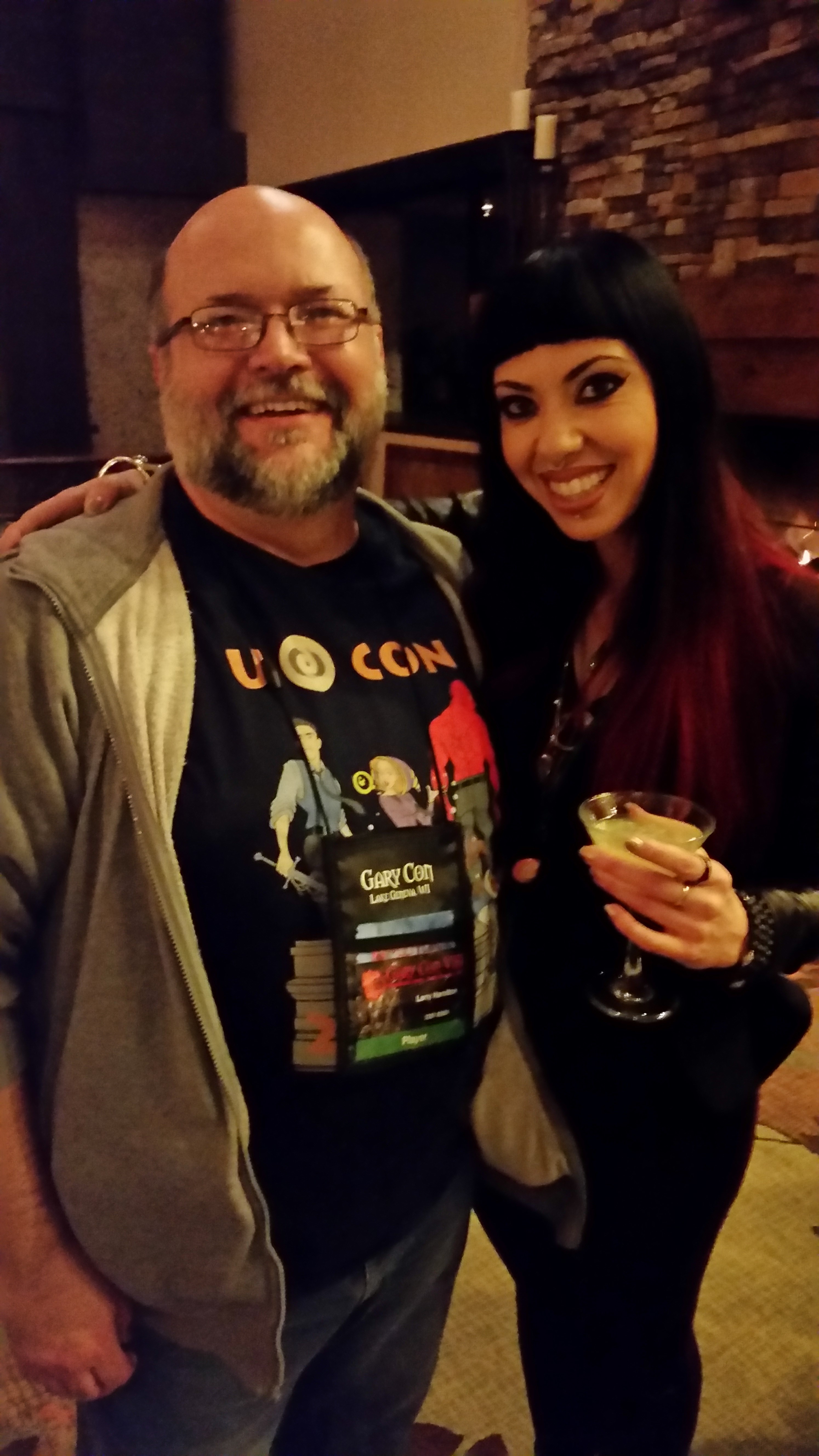 It took 5 or 6 takes because she stumbled on my name and the blog name the first time, and it took a few more for her to get the blog name right. I'll post the blooper reel after I get home. It's multiple files, but I want it in one video.
Later in the evening after the TSR Artists Panel, I got Steve Sullivan, David "Diesel" LaForce, and Larry Elmore.
Arter the panel, I ran into +Aaron Yonda, AKA +Chad Vader, and asked him to sign my program. I had met him in the morning at the con registration area, and talked with him a bit while we waiting. Aaron said, "Randy's here, from the web series, we're in the game library, he'll be glad to sign." So I added Randy Knight, who played Empire Market's manager. Cool!
I then got something to eat for supper just before 10:00 PM. I waited too long to eat, so I ran out of steam. It was a long day, and a good one.
I look forward to tomorrow!
GaryCon Day 0, GaryCon Day 1, GaryCon Day 2, GaryCon Day 3, GaryCon Day 4, Gary Con Wrap Up