This year, UCon was November 17-19. It was my second con in November, after Gamehole Con two weeks earlier. See my write up for Gamehole Con here. It took longer to recover from my second convention in a month, I also ended up with a cold, and work got crazy with a new call tracking system that went in two days before UCon. I spent the long Thanksgiving weekend resting my tired brain and binge watching Netflix.
Now, the recap.
Thursday – I have taken off Thursday the last few years, and get to the hotel early enough to meet up with friends. This year, I was tired, and had to finish up my pre-gens for my Friday morning Metamorphosis Alpha game. In past years, I have gotten into some pick up games. I didn't do that this year.
Friday –
My morning Metamorphosis Alpha game had one pre-registered player. They were the only one to show. It needed at least 3 players, so I visited with others who weren't playing and had a look around. I was bummed that I put work into that scenario, but I have it for another day.
In the afternoon, I played in Adam Muszkiewicz 's Ur-Hadad DCC campaign. It was a blast to finally get to play the wizard the first time I played DCC at Marmalade Dog 20 in 2015. The wizard seeking to trap lightning in a bottle and Meat Dwarf, played by Laura Rose Williams we once again on the same team. The rest of the team were new players. I was hoping to team up with Shane Harsch's wizard for some #Wizbiz, but Shane was running a game at that time.
Ur-Hadad is a theater of the mind city with only the most basic of maps of a specific area. It is a city where one can find and do almost anything. This is a great way to run a city campaign without the GM having to do a lot of work.

Ur-Hadad

After Ur-Hadad, there was a panel with the artists of DCC with Doug Kovacs and Stefan Poag. I hit the wall at some point and nodded off. The conversation was wide ranging about art vs. commercial art/illustration. Doug is a very well-read person and has a lot of insightful ideas.

DCC Artists Panel

That evening, I played in Clayton William's DCC scenario. We had a blast and some wild choices by one player nearly caused a TPK.

DCC with Clayton Williams

Del Tiegeler was there with his sons. They had a great time. I didn't end up in any games with Del. He's always willing to show what he's working on. I didn't take pictures of some things he is working on, since they are for projects yet to be announced, etc. I just love his line work. If you are patient, you can get him for commissions in between his other projects. Nearly a year ago, he did an alternate header for my blog.

Del Tiegeler Showing Me Some Originals

I didn't get his name, but one DM had dice and homemade dice trays for each player for his AD&D game. I thought the way he made the dice trays was cool, so I got a picture.

Dice Tray With PVC Pipe Plywood & Felt
Saturday –
In the morning, I ran Delving Deeper, using a scenario I developed called, "No Really, It's Me!" A clan of doppelgangers is tired of adventurers coming into the dungeon and getting into their caverns and killing them. So the party are doppelgangers sent back to town to stop the adventurers from returning to the dungeon. The players had a blast trying to think like doppelgangers impersonating characters. I greatly enjoyed the things the players came up with. There was a lot of great roleplaying. I set the scenario, and the players went with it. I just threw in some things to give them a challenge now and then. I really liked that they saw the description of the scenario and wanted to play it.

My Delving Deeper Game

Delving Deeper – Trying to Emulate The Selfie Queen – Satine Phoenix

In the afternoon, I ran the Gangbusters scenario that Mark Hunt wrote for me to run at Gamehole Con. This was the fourth time I ran this scenario and once again, with a different mix of players, the story evolved differently.

Gangbusters

GB Player Character Sheet Doodles

GB – Selfie Practice

In the evening, I played in Laura Rose Williams' DCC funnel, Hole In The Sky, by Brendan LaSalle . It was a Contessa event. I tried to get in Laura's DCC game last year, but it sold out fast. I would play with Laura as she is a great player and DM and a lot of fun. I kidded her about killing 3 of my 4 0 levels before anyone else lost any of theirs. My last character lived to the end when several of the other players lost characters.I had fun with the tattoo among the DCC swag. It lasted a couple days after I got home.

DCC – Tatoo

DCC with Laura
Sunday –
I played in Adam Muszkiewicz's Quasquetherion Delving Deeper campaign for the 3rd year. I found my wizard character that I couldn't locate for last year, and had fun getting back into that character. We did better than last year and avoided a TPK. I forgot to get a picture of the group.
That afternoon I played in Brendan LaSalle's experimental 2 hour game. A giant DCC funnel with over 20 players. The largest game he had ever ran. He had some procedures to try and speed it up, and before we were very far along, he told us he came up with some ideas to speed it up. We were a diverse group in age, from pre-teen to at least my age, early 50's. I'm not sure if some of the players were older than I. We had women from pre-teen to perhaps their forties, but age is hard to guestimate.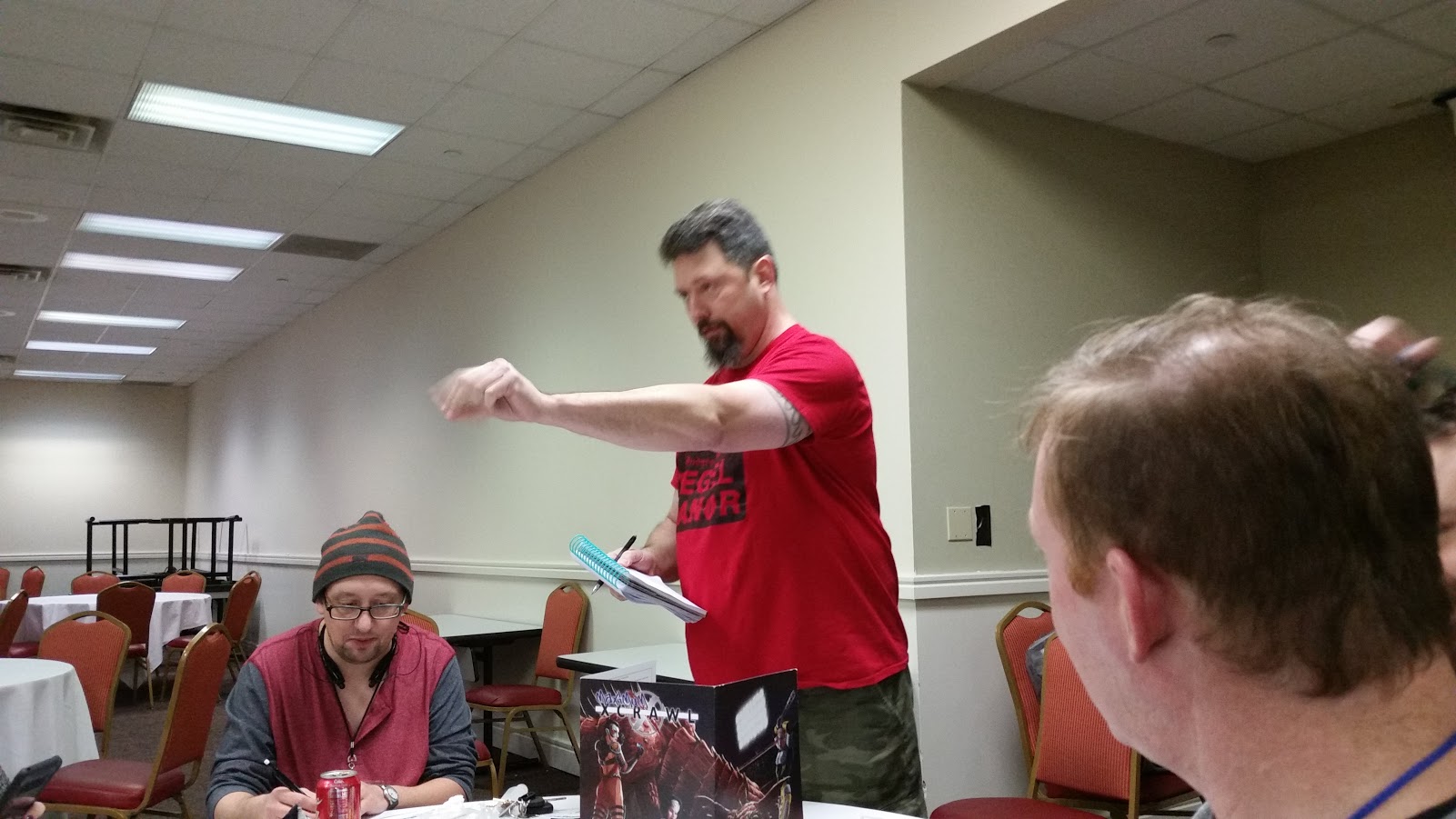 Brendan DCC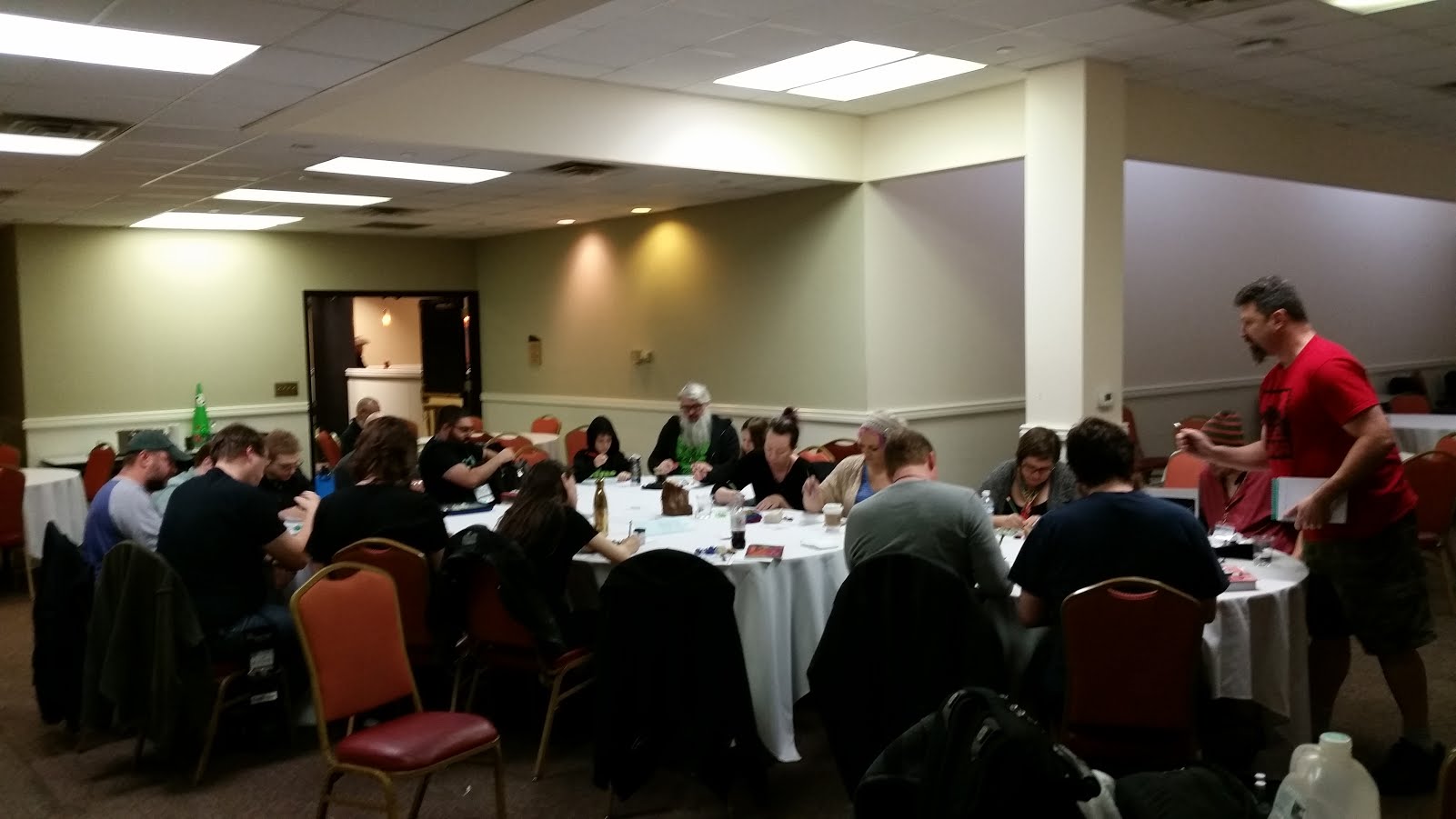 Brendan DCC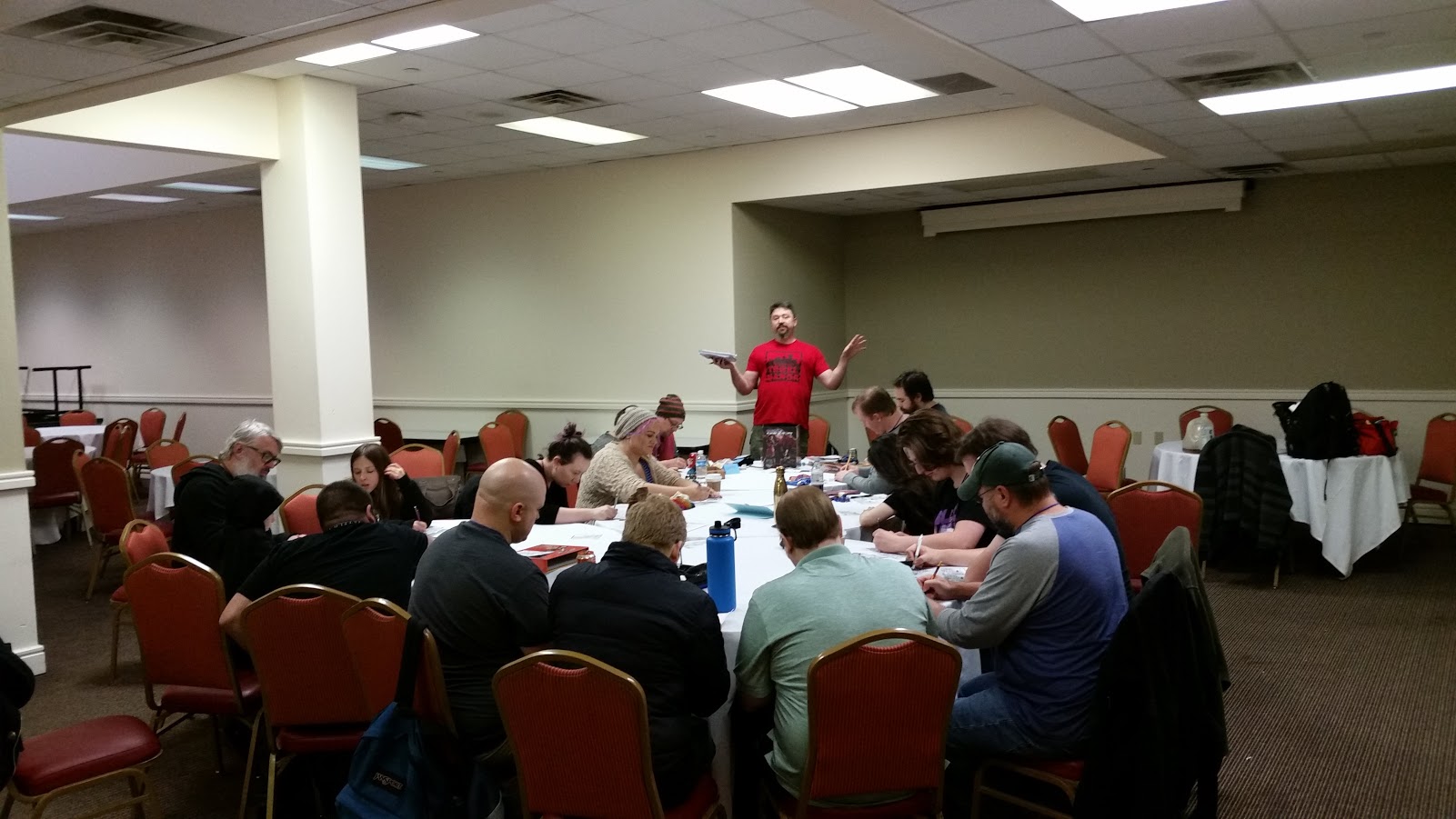 Brendan DCC
I had a blast. I was a bit surprised the crowd wasn't bigger. Last year, I had several tables of 12 because several GMs had to cancel due to the flu. Perhaps the crowd was the same size, but very few GMs cancelled. There was record attendance this year – 1,005!
Next year,  UCon is the same weekend as Gamehole Con, so I will miss Gamehole Con. If you are within driving distance of Ypsilanti/Ann Arbor, MI, this is a great game convention. It has a strong OSR presence, a historical Tekumel presence, lots of D&D of all versions, Pathfinder, and more.
UCon was my last convention for the year. I have one more convention related task for 2017. GM's that sign up for Marmalade Dog 23, March 30- April 1, 2018, by December 31, 2017 get free admission and a t-shirt.  I want to encourage all OSR GMs in the area to run games. I will come up with three scenarios, one for each day.