I had fun at UCON and wish I had had the ability to be there the whole weekend, instead of the whole day. I did get tired and ran out of steam at about 7:00 pm, so I made the 2 hour derive home. Thankfully, the worst of the weather did not impact the interstate. This was my third con for 2014. Before this year, I had not been to a con in about 30 years.
I got there about 7:45 registration opened at 8:00. I took a chance and asked if I could get my stuff, and they were kind enough to accommodate me. I had pre-registered and prepaid for the day, so all they had to do was check my ID and have me sign something. I ordered a UCON bag, in case I needed it.
I then looked around to find where the two games I had signed up would be, they were in the same conference room at different tables. I had about and hour to kill before my first game at 9:00.
At 8:45 I worked my way back to the conference room, which was by now open, and found the table for Keep on the Borderlands, with S&W Rules. I had never player this module, or had no recollection of it, if I did. I started with Holme's Blue Box, and modules were not a thing my brother and I could afford, so we only played modules when friends provided them. We had a father, John, and his ten year old son, Jack. This was Jack's first con game. The other two players were friends Frank and Michael. Our DM was Forest Ray. We had a good time. We were given max hit points and our magic user, John's character, was allowed to be third level. the magic user also hired a lantern bearer. Other than the power boost from the magic user and lots of sleep spells, we did very well in combat and the DM could not hit us for anything. We did have a couple of people get hit, but it was not knock down damage. Even if we had not had the extra spells of the magic user, we would have still done very well. Jack got the UCON token to redeem for a prize since this was his first game at a con. It was fun, but I can see where a lot of younger players would misunderstand game design and every player end up with a magic weapon or item of some sort. If there is a closet with a magic sword for every fighter in the group and other things, why aren't the orcs using them on the players? In three hours we rolled up characters and got past the bandits, kobolds, and orcs. It was fun and I would have liked to keep going.
Next I viewed the vendor area. It was not very big at all. I had expected there to be more vendors there, but there was a bit of something for everyone.
I bought some things that I had not planned to by, but isn't that the way it's supposed to be at conventions? I had to have something to put in my UCON bag.
I picked up Gygax Magazine No. 2 at the Pacesetter Booth, that's all they had. I have the PDFs but like having a real one. I wished I had the chessmen covers, those are too cool and remind me of the ones on Dragon, by the same artist. I wish I had my old collection of Dragon Magazine.
At Newera Enterprises, ran by Roy B. Snyder, I found a Blue Box Basic D&D Manual. This is what I started with. I gave my original to my youngest brother. But over the years, found myself wanting one.
I also picked up some things that I never owned back in the day: the red box basic rules that has a module in it – Keep on the Borderlands; the blue cover Expert Rules and red cover Player's Manual with a Dungeon Master's Handbook.
I spoke with Roy for awhile and found out that he live in Kalamazoo, and that one of the police officers in the village where I live has written for Castles & Crusades. It's a small world. I had no idea.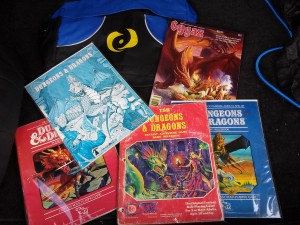 While in the dealer room, I way a guy with this awesome shirt, and he was kind enough to let me take a picture of it.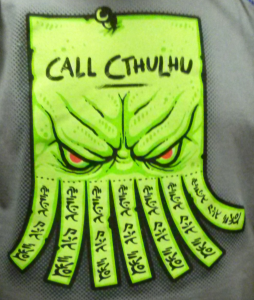 I then introduced myself to Tim Snyder, of The Savage Afterworld, who was manning the Goblinoid Games booth. Tim sums up our conversation on his blog. Yes, Tim, it was good to meet you. One thing I will mention, is that it was priceless to see Tim's reaction that I played Keep on the Borderlands for the first time that morning. [Tim – The Village of Hommlet is the module I was struggling to recall the name.]
From 2:00 – 6:00 I played in Expedition to the Barrier Peaks, DM's by Shawn Dry. This was ran as three four hour sessions, so one player could go through the entire adventure, if they signed up for all three sessions. I played a high level priest of Odin. I had played this module once way back in high school, so I remembered bits and pieces. As the DM showed us pictures of the creatures and other things we were finding, I recalled more of it. This was the middle session, and we had done well. I was having such a good time, I wanted to play in the next session. We had one character die, and mine got knocked down. We thought for sure we had a TPK on our hands, but we prevailed and survived for the next round of players to finish the module.
My only real complaint, it that on the website for UCON when I signed up, it was not clear playing through the Peaks module was an all day thing. I did try to sign up for the third session online before I knew this, but it and the first session filled up before the second. I did go downstairs and try to sign up for the third session, having forgotten it was already filled. I did not think to ask about an "alternate" ticket, in case someone didn't show up. The person assisting me did not ask if I was interested in another session at that time, and I did not think to ask. It didn't help that some guy came up asking her about shirts in the middle of her helping me, so she was well distracted, as was I. (What is it about people and their social skills and waiting their turn? I find this in places other than cons, usually at convenience stores all the time where the person behind me is putting their stuff on the counter around me, before I can put my change or my receipt in my wallet and put away my wallet and grab my stuff and get out of the way.)
I would suggest that the website show filled sessions in red or whatever color it is that works for color blind people, so one can see at a glance which ones are still available. That doesn't mean one can buy the "alternate" tickets in case someone is a no show. Also if any games have the potential to be an all day thing, make that clear, so one can decide if they want to play the whole thing or just a portion. I would gladly play another module with Shawn as DM.
My plan was to meet others I have met and followed in online RPG settings, but I ran out of steam too soon. It is hard to fit all one wants to do into a single day at a three day con.
I was impressed by this con. It was big enough to have lots for everyone. For the board game set, the ball room was filled with tables. I would say 50+ tables. The venue was big enough to accommodate the attendees with only momentary crowds in a couple of places and not the press of a horde, like at GenCon. There were all kinds of RPGs, many I had never heard of. I loved that they had an OSR track. There were several DMs using their Dave Trampier cover AD&D DM screens.
I am already looking to next year. I plan to get Friday off so I can be present from the beginning, and to get Monday off so I have a day to rest. I will also get a room, so I don't have to deal with all the driving and weather. I just wish I didn't have to wait until January to put in the request at work.