I received my May Mythoard on Saturday, but have been very busy. My weekend was full of lawn care and gardening, and this week has been crazy busy with work. I got pictures when I opened it, but haven't written it up until now.
Work greatly slowed down today, so my energy level and general enthusiasm to concentrate on anything is still here. My last post in my scheduled posts ran out yesterday, so the timing is perfect!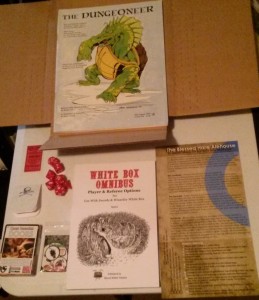 A monster token of a Lich, I think. These aren't my thing, but the art is cool and it's a magnet. You're not supposed to be able to see the surface of your refrigerator, right?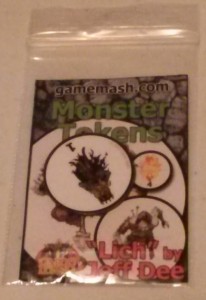 The Wombat Notepad is tiny! It is two inches by two and a half inches, with 16 pages. I like the cool skull and crossbones graphic. I am not sure how practical such a small pad would be. It is well made but is just not my thing. If a tiny notebook is what you're after, then this is it.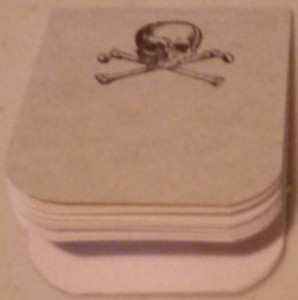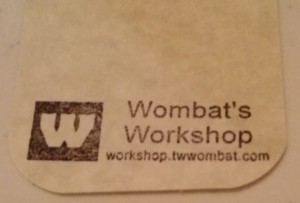 Ideas for doors. I don't know that I would have bought this if I saw it at my FLGS. It has some interesting ideas. It has cards for doors, traps, and special. Of course, it says that it requires the Pathfinder RPG to use the cards. I take it that Pathfinder has very specific rules for doors. One can easily take the ideas in this deck and use it for any game. I'll go through this in detail later, but I am sure it will add some variety to the doors placed in different location in my games.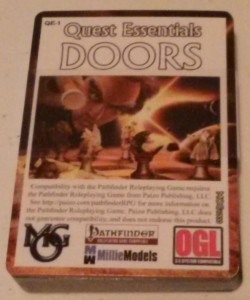 How did they know I didn't have enough dice! I like the color. My mom would approve, red was her favorite color. After the recent video about testing the balance of dice, I wonder….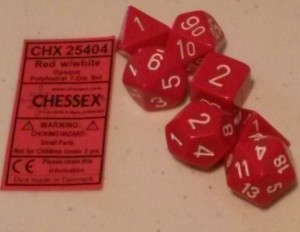 The Blessed Alehouse Tavern is a continuation in the series of the Mythoard setting. This half-page stiff card stock has a description, 3 NPC's and a d12 rumor table on one side and a map of the tavern on the other. Unlike the last two Mythoard's this one is not hole punched. The tavern map would be marred if it were punched since the art goes all the way to the edges. Without the holes, one has to have a notebook with pockets or other means to carry it securely.
This is a cool tavern that would work in any small village, and is a good example for others to come up with ideas for their own taverns in other locations.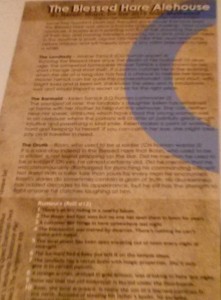 +Jame's Spahn's White Box Omnibus softcover. I won a PDF of this on an RPG podcast for Swords & Wizardry Appreciation Day.
I wrote a favorable review of the PDF and find that the book is well made and easily a handy resource for the table. Real old school is being able to game without electricity. 😉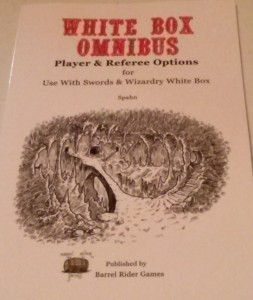 I am really liking these old school magazines! This issue has 408 Elven names and their meanings from The Silmarillion. I like lists like this. My brother, Robert, made a handwritten list of his own from various books by Tolkien so players could make up their Elven and Helf-Elven character's names. It was also used for him to generate NPC's. I think I typed up a copy myself. If I can find that copy, I will compare it to this list.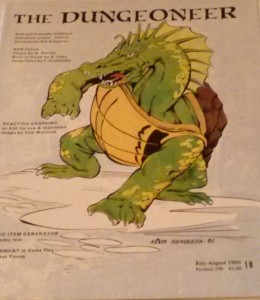 This month's Mythoard had more things that I am likely to use in a real game, or to give me ideas to use in a real game, than some of the stuff from last month.