Last week, in response to various postings about the Delving Deeper on Lulu at less than $5.00, I ordered it. I don't recall the day I ordered it, but it shipped on the 21st, and was waiting for me in the mailbox when I got home today, the 28th.
The box is much larger than the book itself. When I opened it I found out why. Instead of being packed to bursting with newspaper or packing peanuts, it was wrapped in a piece of thin Styrofoam and that was shrink wrapped to a piece of cardboard so that it would not move. The cardboard is sized for a snug fit in the box. This was my first book ordered via Lulu. I must say I am impressed with the method of packaging and the fine condition that my new book arrived in. I am also impressed by the book itself. I am now much more interested in ordering books of other rules sets, like Swords & Wizardry and OSRIC, to name a couple. The softcover is very good, I'm almost afraid to read it so I don't damage it.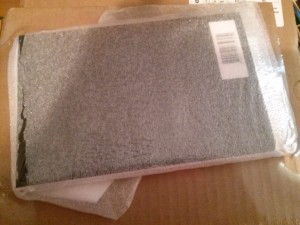 So far I have only skimmed it, but I did read through the free PDF, from Immersive Ink. I also looked at several articles and followed along with the week review of Delving Deeper by Adam Muszkiewicz. There is also a Delving Deeper G+ Community.
I like the simplification of the original basic rules. It boils everything down into one book of 130 pages. The print is easy on the eyes, and I look forward to reviewing the whole thing in depth. I like some aspects of these rules. I can see this as a basis for introducing players to the game. I'm not a dig deep into the statistics kind of person, but I like that the author, Simon J. Bull, knows OD&D and Chainmail, and took the time to correct the combat tables to be more statistically balanced. I'm not the kind of DM that gets that deep into the rules to know all the kinds of details and many would consider trivial. When I play a spell caster or a multi-classed character, I look more in-depth at the rules to see what I can do with a character, but still not to this level of detail.
The cover is also much more impressive and clear than the image in the PDF. It is a pen and ink drawing, which is fitting for the name of the publisher, Immersive Ink, and is also dark and does not photograph well. My picture of the cover below looks better on my monitor in a photo viewer. It did not scale cleanly when I did a test preview of this post. The cover is full of action, and you can't fully appreciate it without having a copy in your hands to peruse closely for hidden gems, like in many of Dave Trampiers ink drawings in the TSR rule books and modules.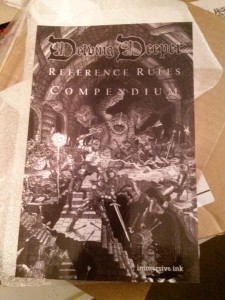 I am curious to see the next iteration of these rules. If nothing else, there are lots of little tidbits that I can use to inform my own style of play.