Last Saturday I went to Michicon. It starts on Friday, but I was not able to get the day off. Note to self – Alert social secretary to be more on the ball next time. Oh, wait, that's me….
I had heard of Michicon last year, but this is the first year I attended.
It was held at Oakland University on the NW side of the Detroit metro area. I had a late start and there was road construction that made it a challenge to get there, but I finally made it about 2:30 or so.
I found +Roy Snyder with his booth and spent money on a few items. I got a second pristine Tramp cover AD&D Player's Handbook, and another Player's Handbook with the Wizard cover for the table. I went ahead and got Legends and Lore. I realize it is the same content as the Dieties & Demigods – without Cthulhu & Melnibone, but I didn't have one. I already had the PDF of Legends & Lore.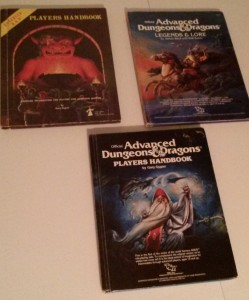 I also picked up Oriental Adventures. That is one that I keep thinking I have, but don't. I lost my original with the water leak incident. I have it in PDF. I now have all of my original AD&D manuals from back in the 1980's re-built. I know I said that before when I wrote about getting two Chulhu/Melnibone mythos Dieties & Demigods on the same day.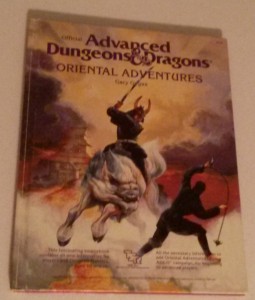 I have items I added to my PDF collection of manuals that I did not have back in the day. I have a hard copy of all the ones I have in PDF, except Manual of the Planes. I don't need it, but want it for "completeness." While I have Greyhawk Adventures in PDF and hard cover, I am not interested in the book for Forgotten Realms or others they may have.
Now the only D&D item I don't have from my original collection is the Greyhawk Gazeteer. I was glad to get it in PDF, but I miss those gorgeous maps. Maybe someday.
I also got a GM screen for Metamorphosis Alpha, I finally gave it a through reading and I like what I see. One less excuse to not run a game.
The con was not well marked. The center where it was held was having remodeling and there was no food available on site. There were only vending machines for drinks. I chatted with Roy and bought stuff from him and got directions from Roy to the registration table. It turns out I came in the back entrance. It wrapped around and I came up the stairs that led to the game room, I just went in the door closest to the stairs – on the left. No outside signs and no inside signs. It is $10 for the day. Not a bad amount.
The big open room had maybe a half dozen vendors along two walls. The tables were numbered on the sign up sheet, but there were no numbers on the tables. Thankfully, I was there to play DCC, and +Jared Randal was running an open game 0 level funnel next to Roy's tables. I dropped in and played all the way until the con closed. Jared ran a great game. The module was Sailors of the Starless Sea. I only lost one of my original five 0-levels. I ended with a full compliment of five, since we divvied up the characters of players who could not play the whole time. I had not played that one before. We used a d200 table of "special" items that each character got, and we had a blast using them in creative ways.
Finally, I won a door prize, a still sealed dice game of Walking Dead. I don't play a lot of board games, so if I can't sell it I plan to keep it sealed and see what I can get out of it in a few years.