I had a packed Gary Con schedule compared to the prior two years. This was the first time I ran games. I ran 3 four hour games, and played in 4 games. Three were four hours and one 5+hours. Next year, I think I will run three games, but I won't pack my schedule. I need more sleep.
THURSDAY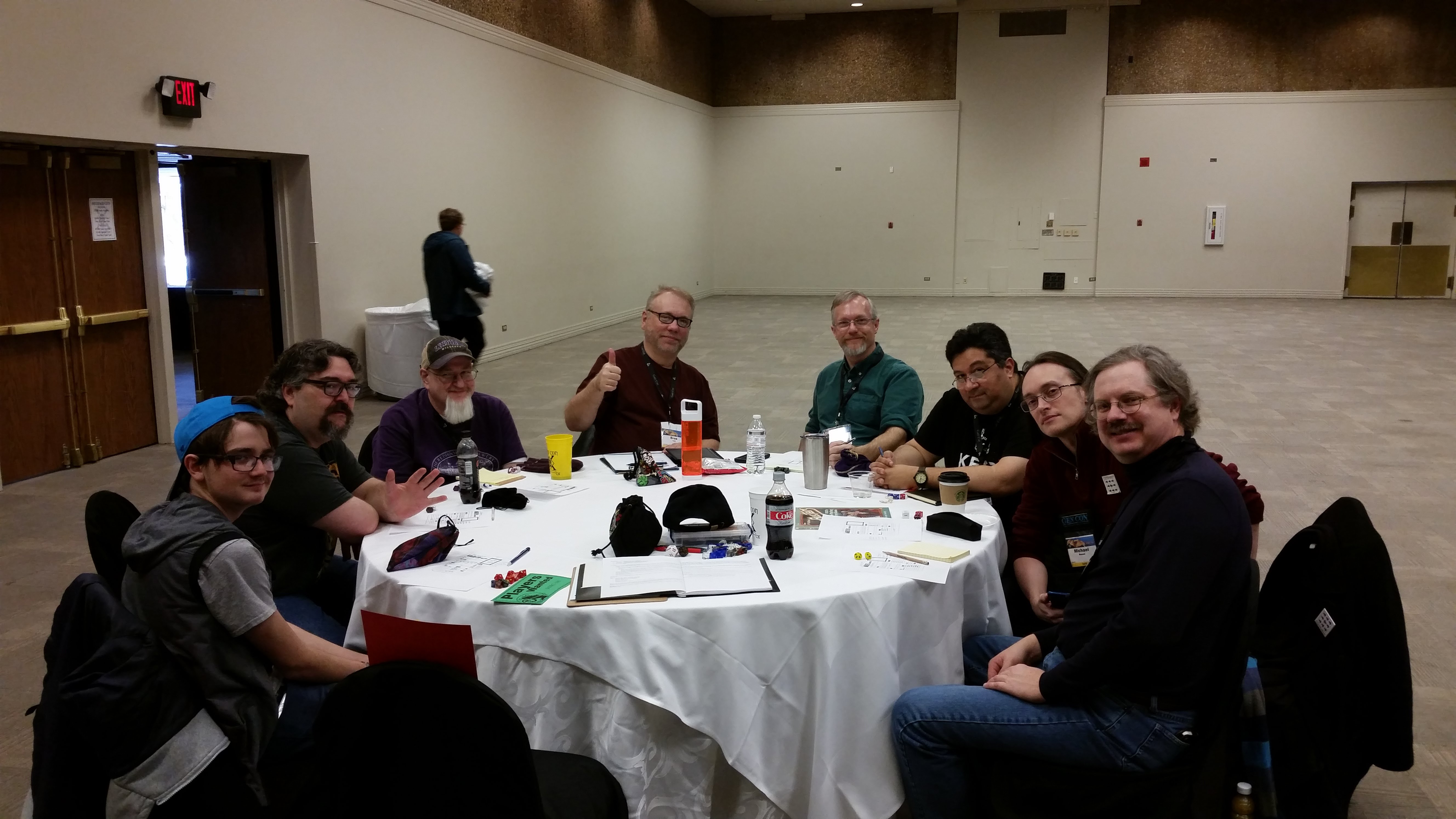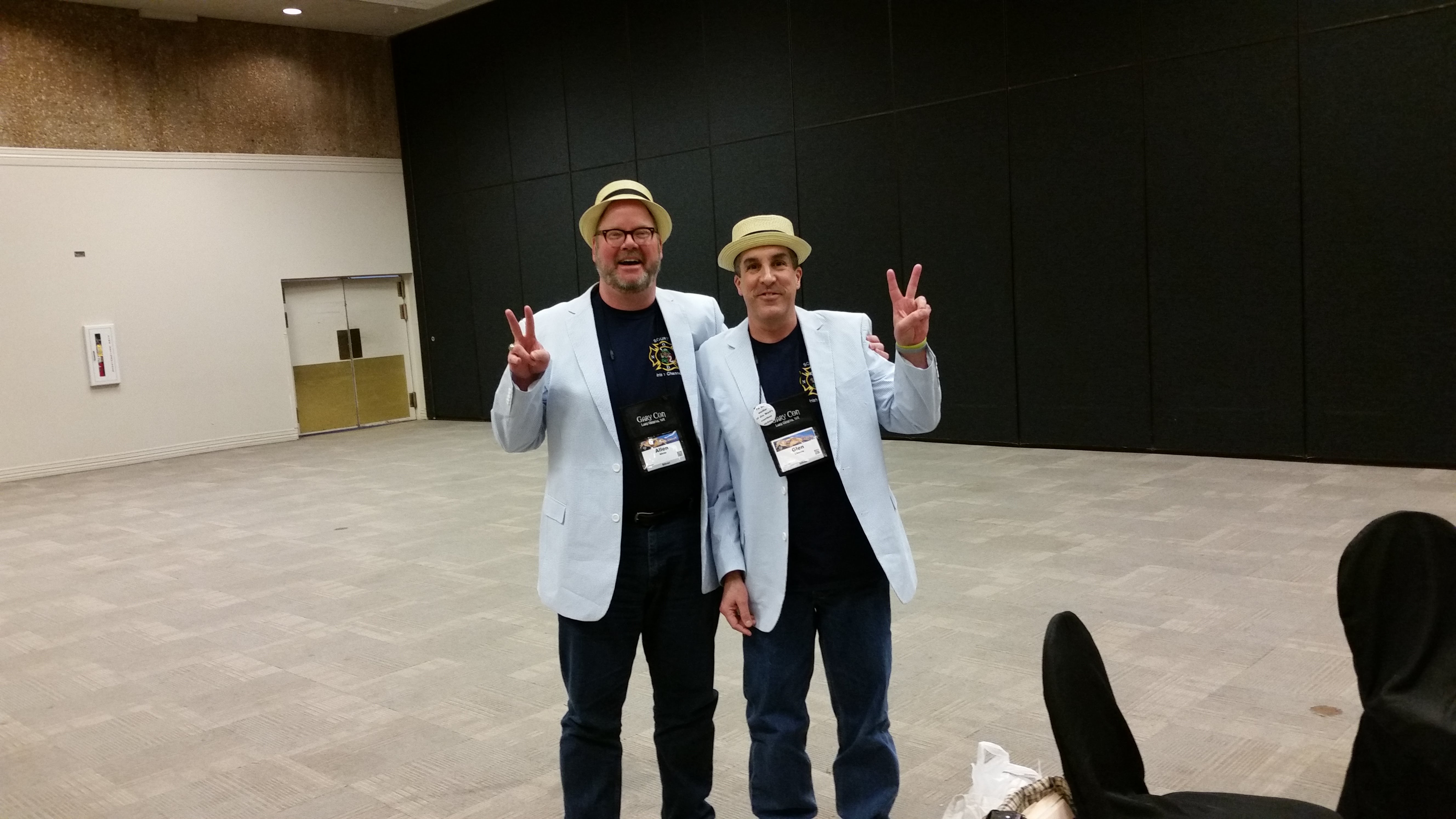 Two of the three games I ran were Thursday. I started with Gang Busters. I had 8 pre-gens using the templates from +Mark Hunt's version of Gangbusters. I proofread his current state of the rules from the fall, so I used his version with my edits. The pre-gens made character creation fast. Mark was going to play in my game, as I told him that I would run so he could play. Unfortunately, his dad went in the hospital and he couldn't make it. I had no reception with my chrome book in the part of the hotel they  had us. Mark had hoped to do a Google Hangout for a Q&A after the game.
I never saw so many players botch a roll and then make the luck roll I gave them. At least, make the luck roll when it counted. Most lucks were under 30. I had 3 or 4 players in a row make their luck roll. The players were all law enforcement. One played a state trooper and played it so well, the others asked if he was a real officer, and he laughed as he was not in law enforcement. The characters found the source of the secret shipments of alcohol. I can't give it away, or I can't run that scenario. No characters died, but a couple got shot up really bad. One caught himself on fire, and another kept falling in the water. It was awesome how they played smart and rolled well, and foiled the bad guys. They got done an hour early.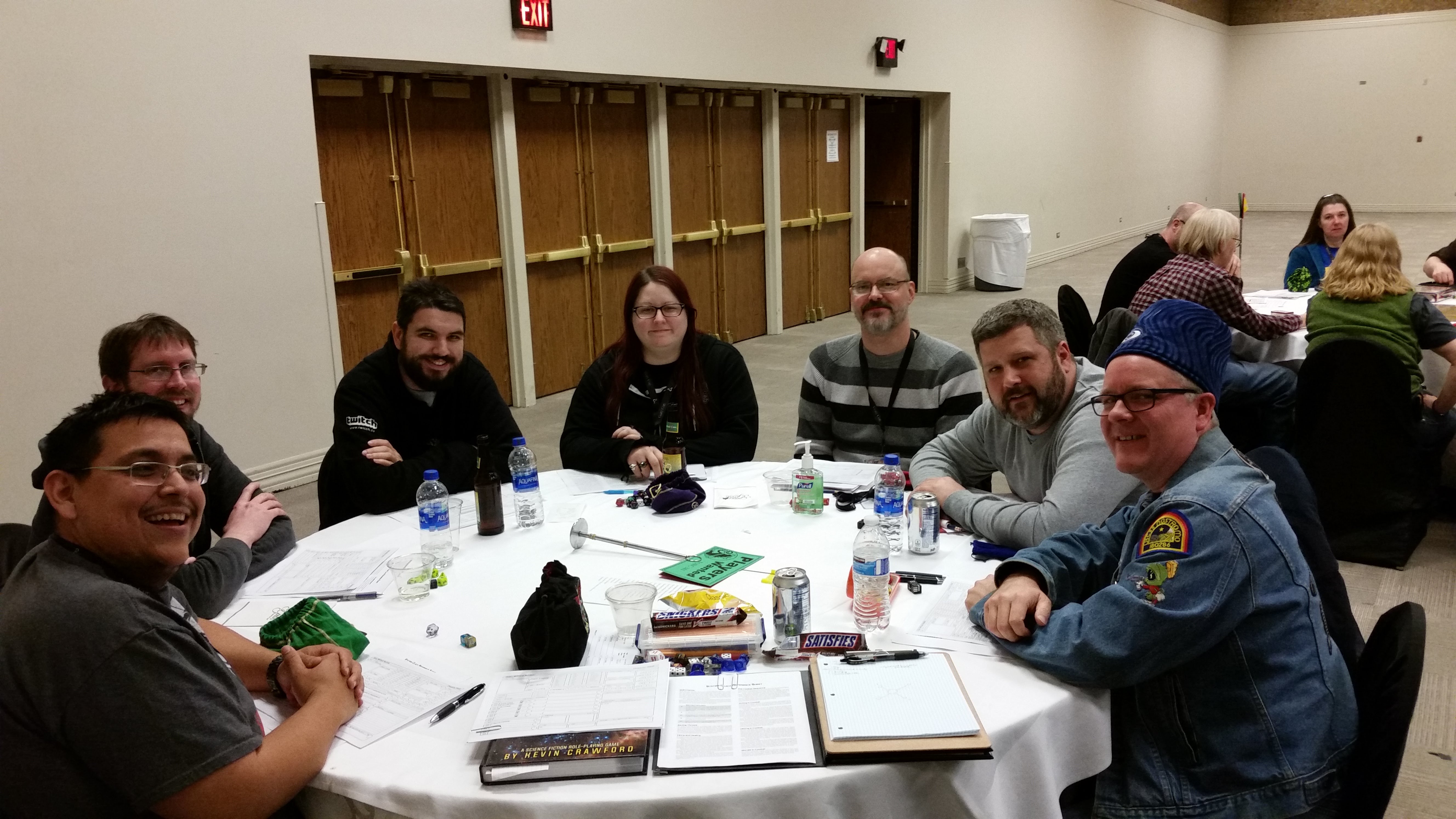 In the afternoon, I ran Stars Without Number. I used the revised edition rules for the Kickstarter that delivered in January. I had never played it, so running was the first time I played it. I built 8 pre-gens. The first pre-gen took a long time as I was figuring out all the bits to do it, even with the spread on character generation. I did that to help me grasp all the pieces. I then used the quick character generation and did most of the rest in the time it took to do the first. The character sheet is a form-fillable PDF, so I have those NPCs for future use.
7 people signed up. It was fun to finally play in a game with +Forrest Aguire. All of the players made a lot of awesome rolls for skill checks. My usual poor rolls for the NPCs made things really easy for them. They also made smart decisions, and had a plan of action that was direct and simple and their good rolls compensated for how daring it was. Skilled players making smart choices, they also finished about 45 minutes early. One guy who made the most great rolls on skill checks saw me the next day and said that he didn't make any rolls at his next game.
FRIDAY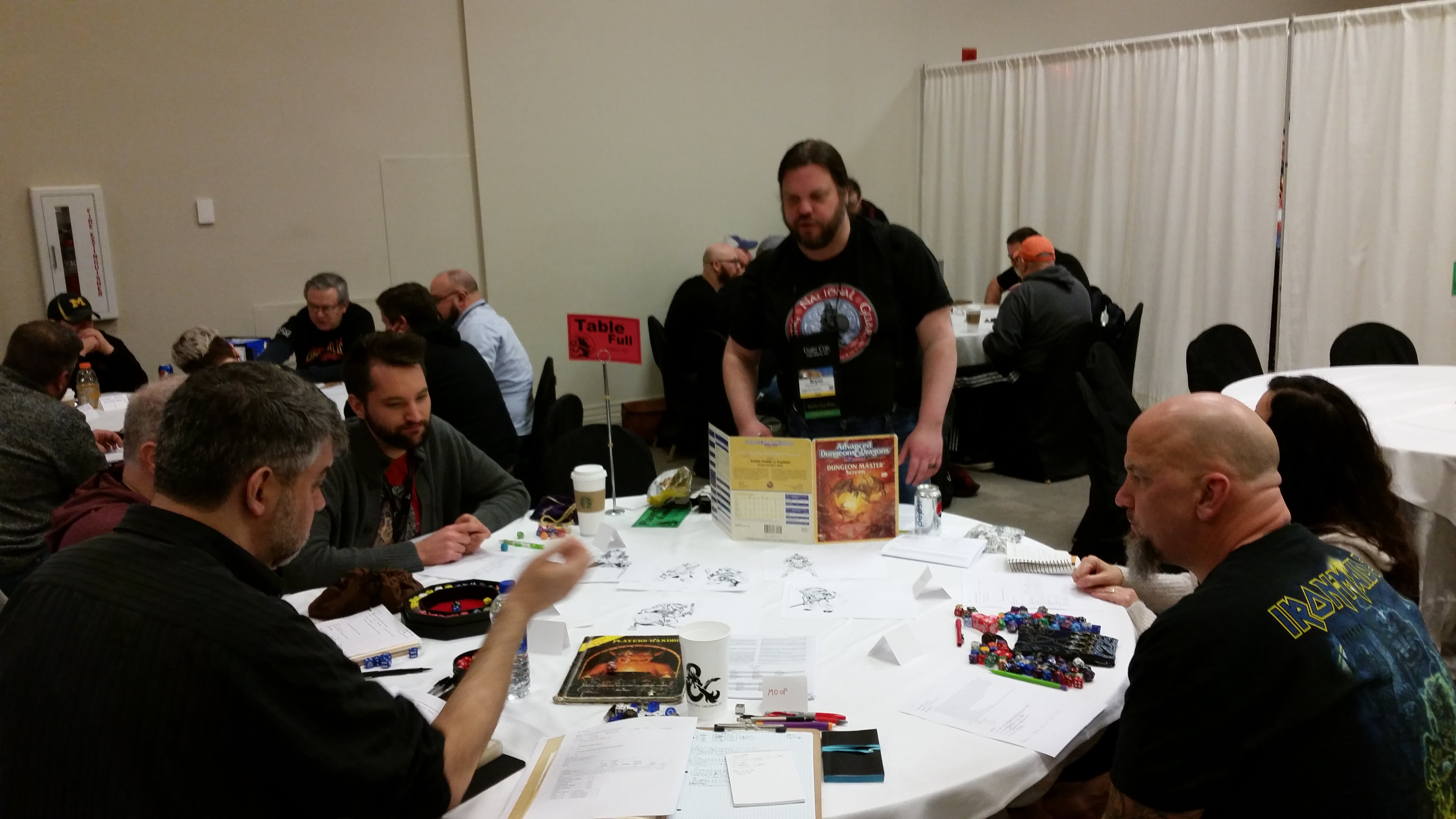 I had three games Friday. The first was AD&D in the morning. It was Against the Dwarfs by Bryan Skowera. This was the third of a series mirroring the Against the Giants modules. I played in the second one last year and had a blast. We made some poor tactical decisions early in the session and managed to luck into a plan that let us beat the bad guy.  I was able to play the Kobold cleric that I played last year, which was a lot of fun.
Friday afternoon, I played DCC with Brendan LaSalle. It was a hilarious scenario. We sang the songs of Electric Potato.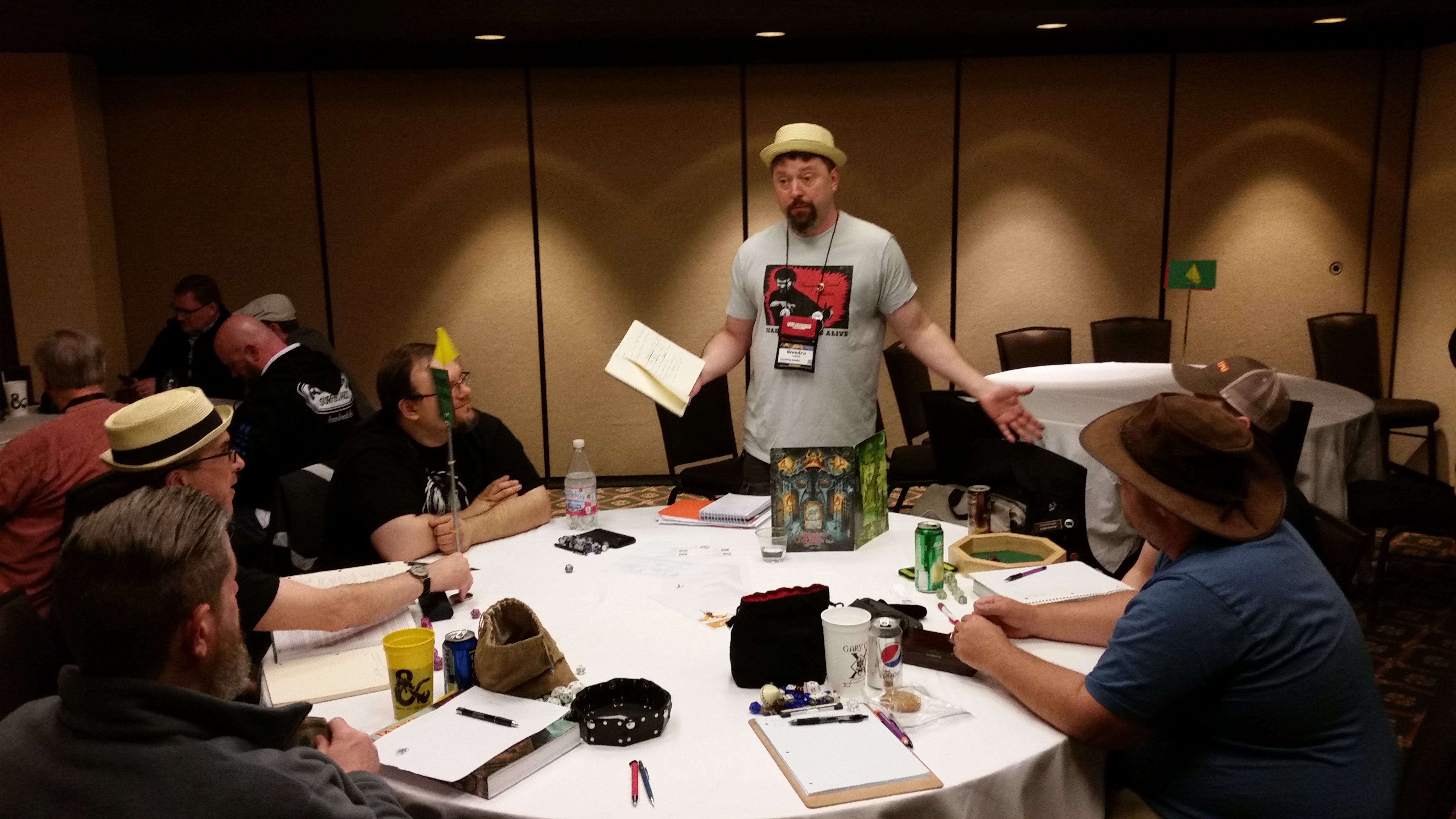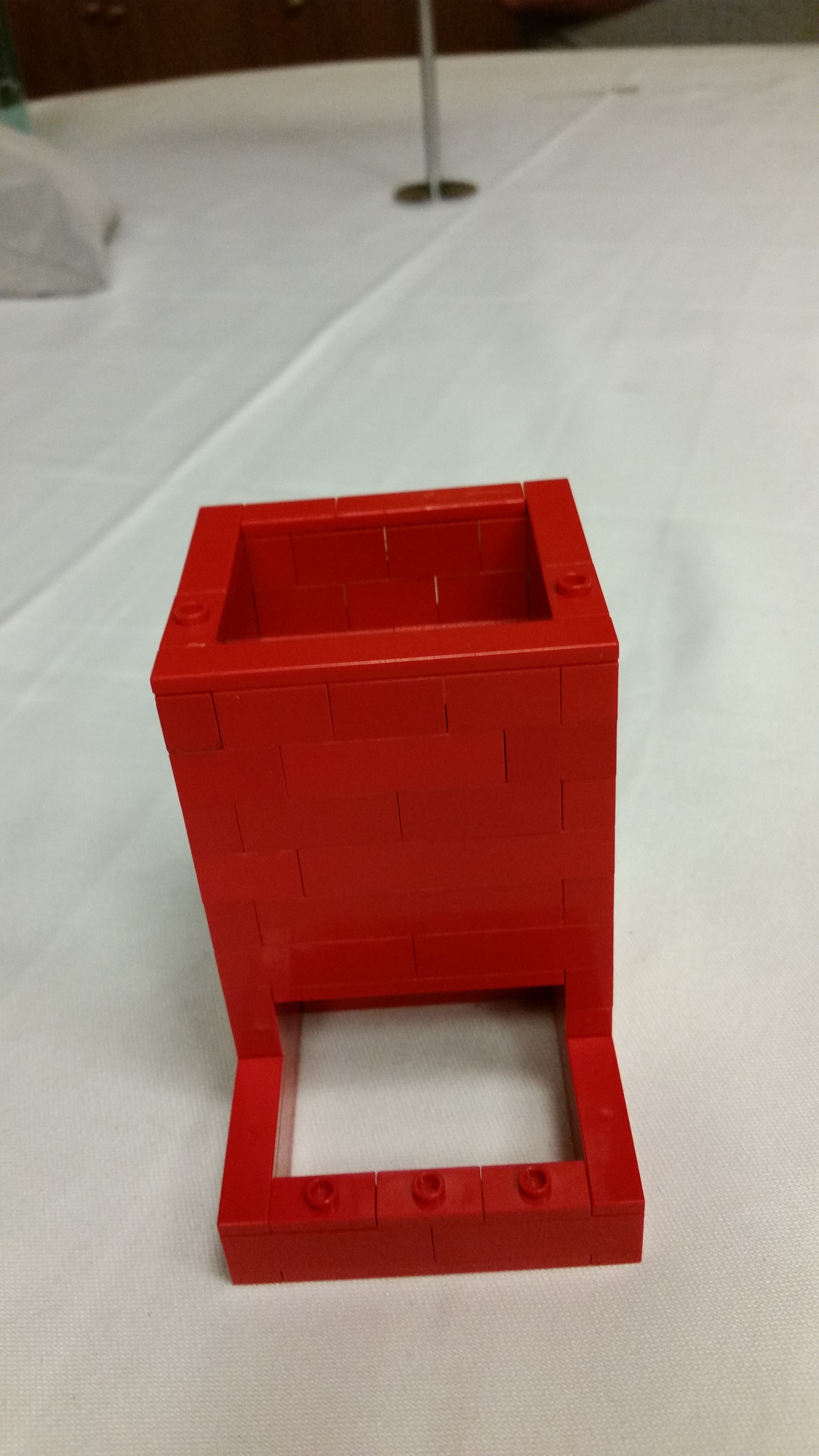 Friday night I was supposed to play in +Joseph Bloch's game in his  AD&D Castle of the Mad Archmage setting. Unfortunately, Joe never showed. One of the people at the table found out he had told the con staff, but they never told us. I saw him the next day and totally understand why he did. For the con, I bought a rolling catalog case with a telescoping handle, so I could carry all of my stuff around the con and just pull it. I ended the con with no back or shoulder pain. It is a wise investment I will use at every con. Because I that, I had my Gamma World 1e book and my scenario that I would run the next day, so I offered to run it for the table. Two left for other things, and someone else joined in when they were walking by. It was a lot of fun for those who hadn't played since back in the day, and those who had never played. It is very similar to Metamorphosis Alpha, so I kept asking what Radiation Resistance they had, instead of Constitution. They had fun, and I would end up playing other things with two of them later.
SATURDAY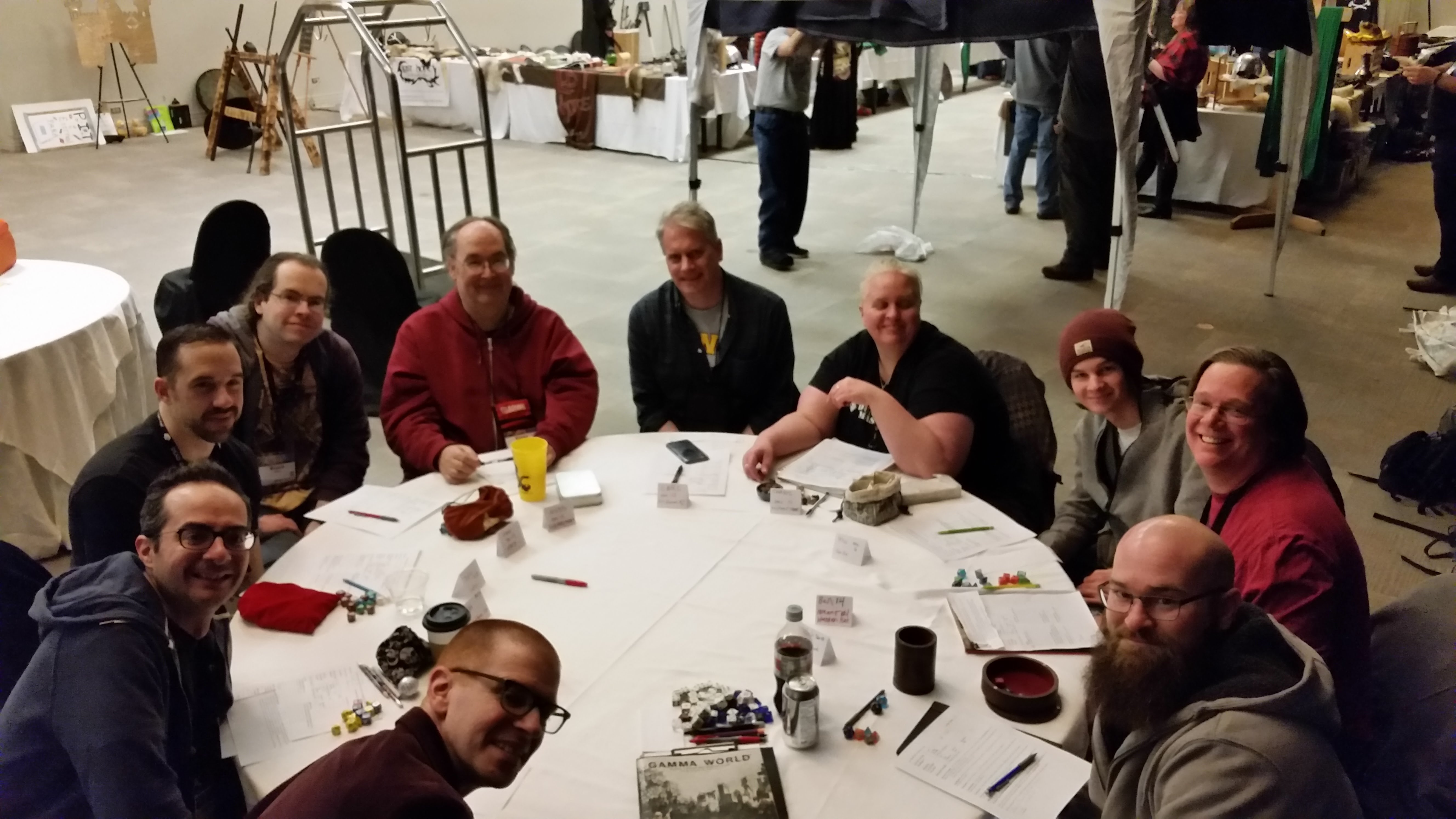 Saturday morning I ran Gamma World and all 8 showed up and I squeezed in two others, for ten total. I only had 8 pre-gens, so we had them quickly roll up characters for the two. I am glad I did that, they all had fun and it worked out to be a jam-packed and fun scenario. I used the additional secret papers with some background for the 8 pregens. I did not use those the night before as a secret, but told those players what the secrets were. Several of the players latched onto the information on their info paper. All I asked was that they not reveal it right away, which worked out great.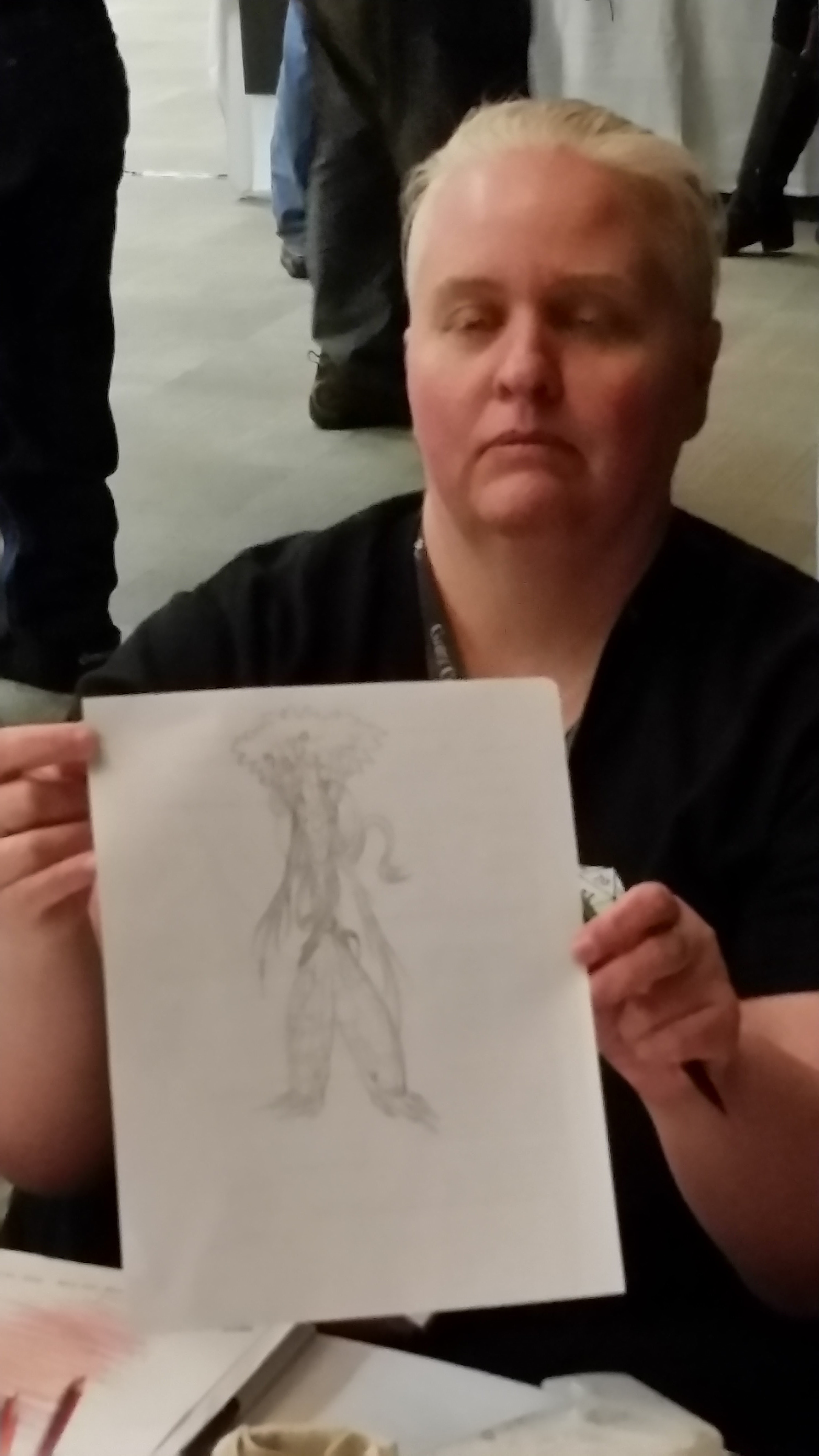 In less than 30 minutes they went to the weird hermit on the edge of town to get help with something. He figured out their issue was a dead battery, but he had no way to charge it. Then the gorilla with an electric shock attack like an electric eel said, "I'll charge it!" I said, "That's a great idea! How much damage does it do?" "Uh, 4d4." "Great, roll 4d4!" I picked up 8d6 and rolled those once he gave me his total. "OK, the hermit falls over dead and you all take 15 points of damage!" I started laughing because the hermit had information for them. I was already short on sleep, which makes me either cranky or slap happy. I was so tickled, I laughed so hard I had tears. I've never had my players bring me to tears before. They eventually got on the right track and found what they were looking for and we ran out the clock on the session. They all had an excellent time.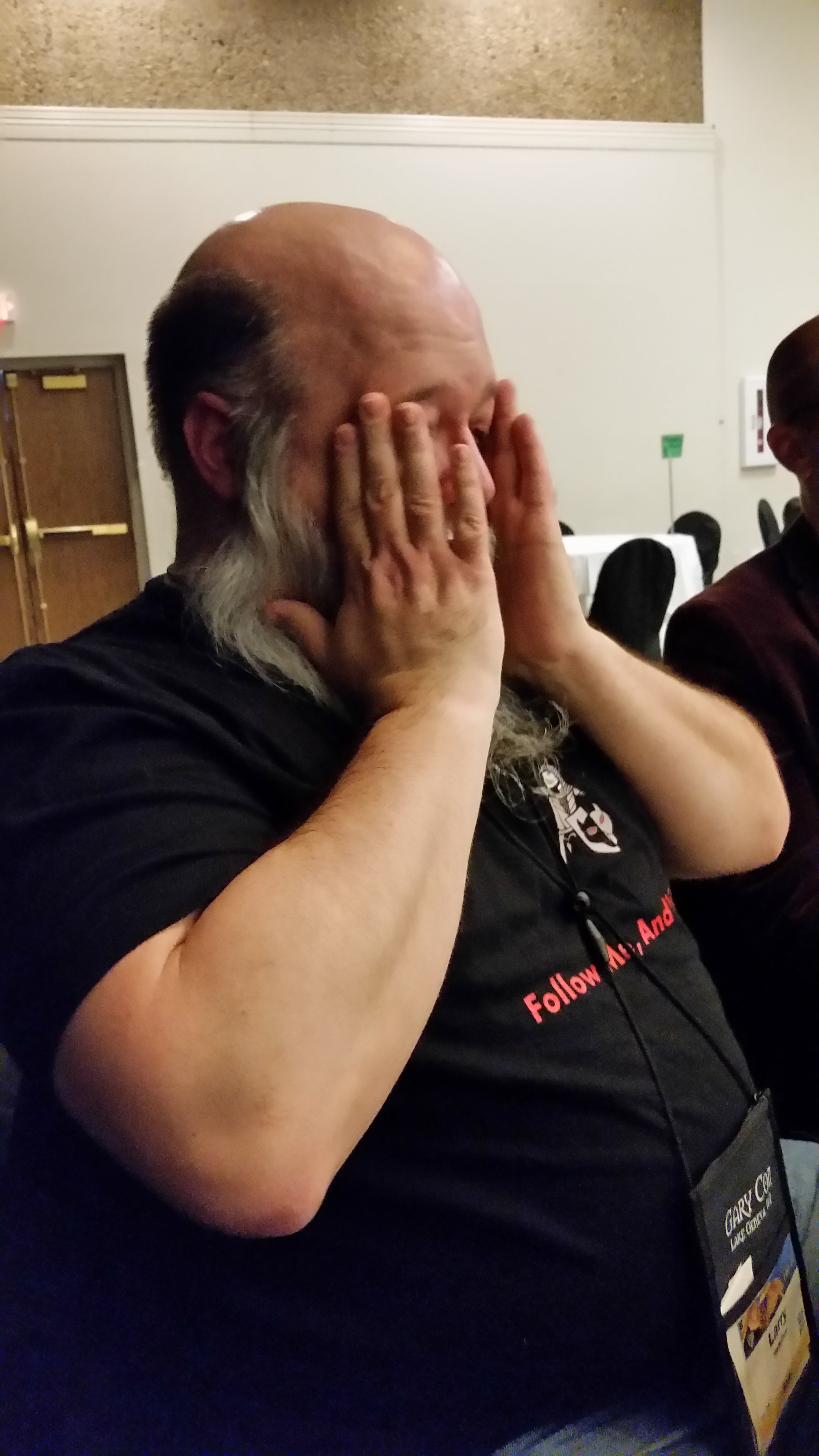 After a long break in the afternoon, I had AD&D with +Michael Shorten. I should have taken a nap, but I play tested my card game. I ran out of steam and had to back out early. One of the players in the cancelled AD&D game who played in my Gamma World scenario the night before is an architect and offered to be out mapper. he did a rough sketch map, and you could tell he is used to working from verbal descriptions and his map was clear and easy to follow. He mapped at a scale we could place our minis. That was a really cool thing. He also lives in Grand Rapids, so we'll probably game together occasionally.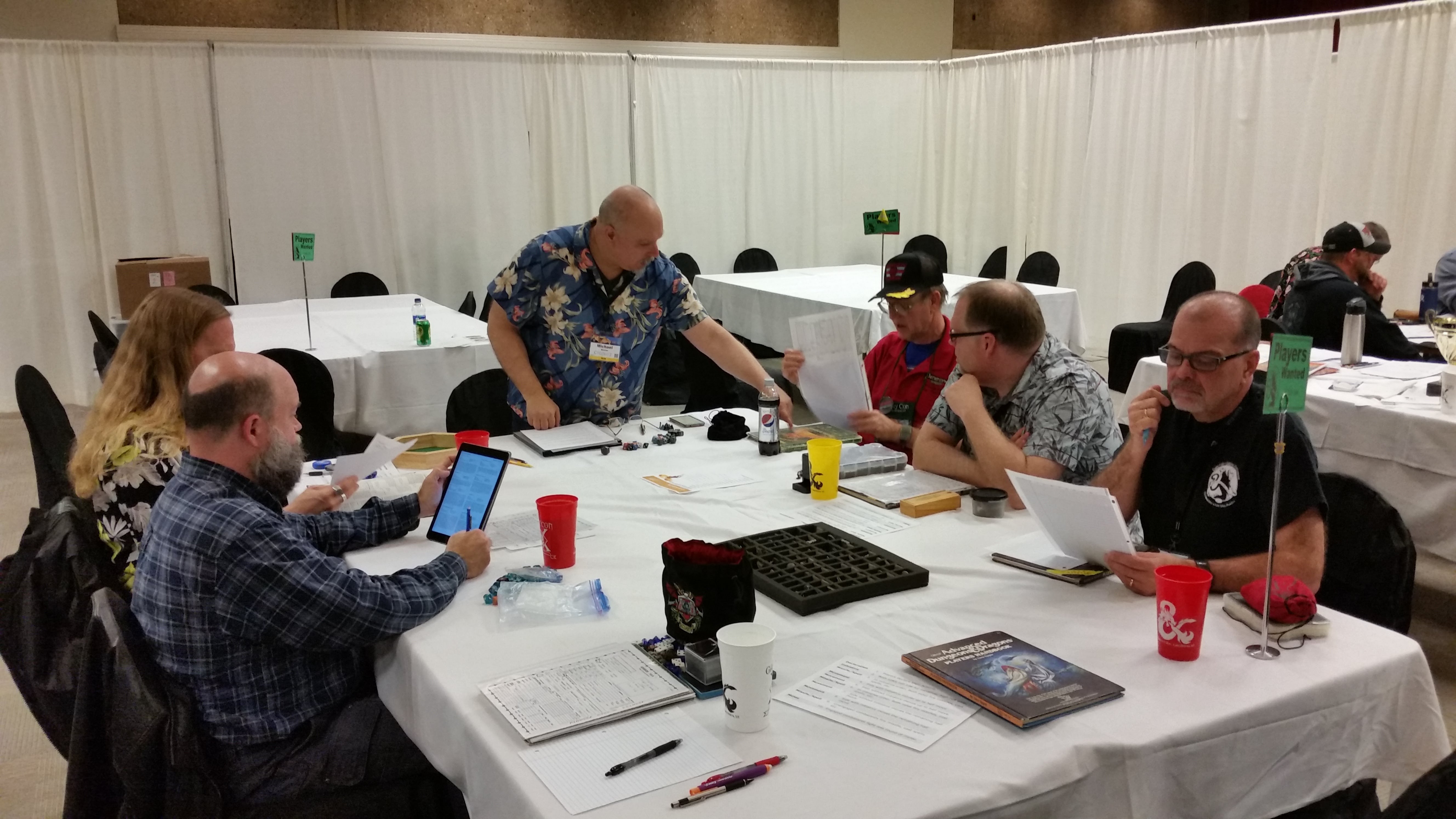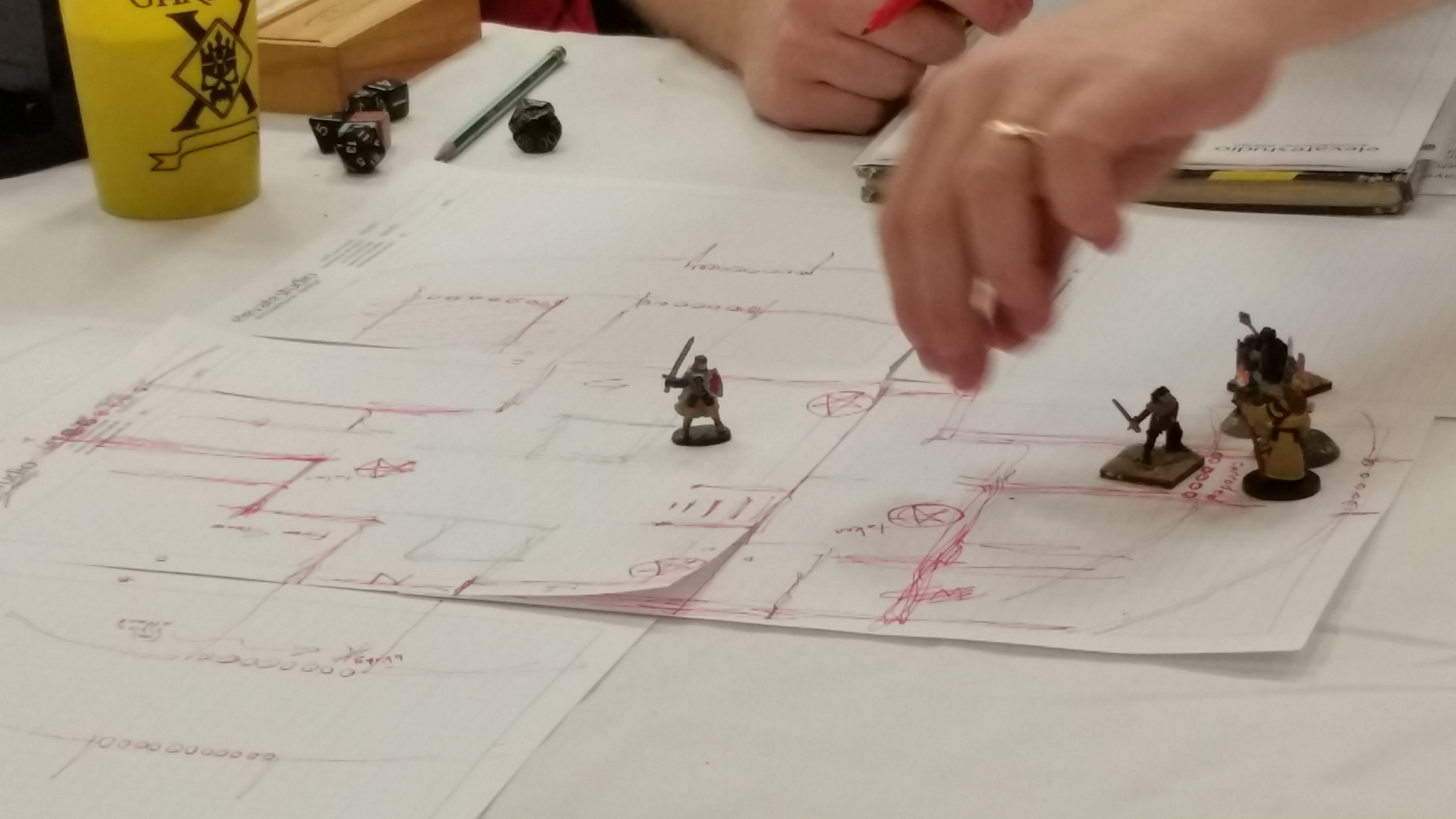 SUNDAY
Sunday morning, it was up bright an early to finally get to play Top Secret with Merle Rasmussen. It was the new Top Secret from the Kickstarter. It will finally ship from the US and European TSR warehouses this week or next. I liked how he randomized the map by each player building one section. It was serendipitous how my map worked to make an easy ending to a nearly out of control scenario, and we managed to get done early. I really like the simplicity of how the map works and how it randomizes the scenario.
That was a good thing, as I met Tom Wham going one way as I came down stairs, and he was not in a rush,  so I finally got my copy of Awful Green Things from Outer Space signed. I forgot to bring it to Gary Con 8, last year at Gary Con 9, it was always raining and since I wasn't in the venue's hotel, I didn't want it getting wet. I also had him sign my Gamma World 1e, which he edited.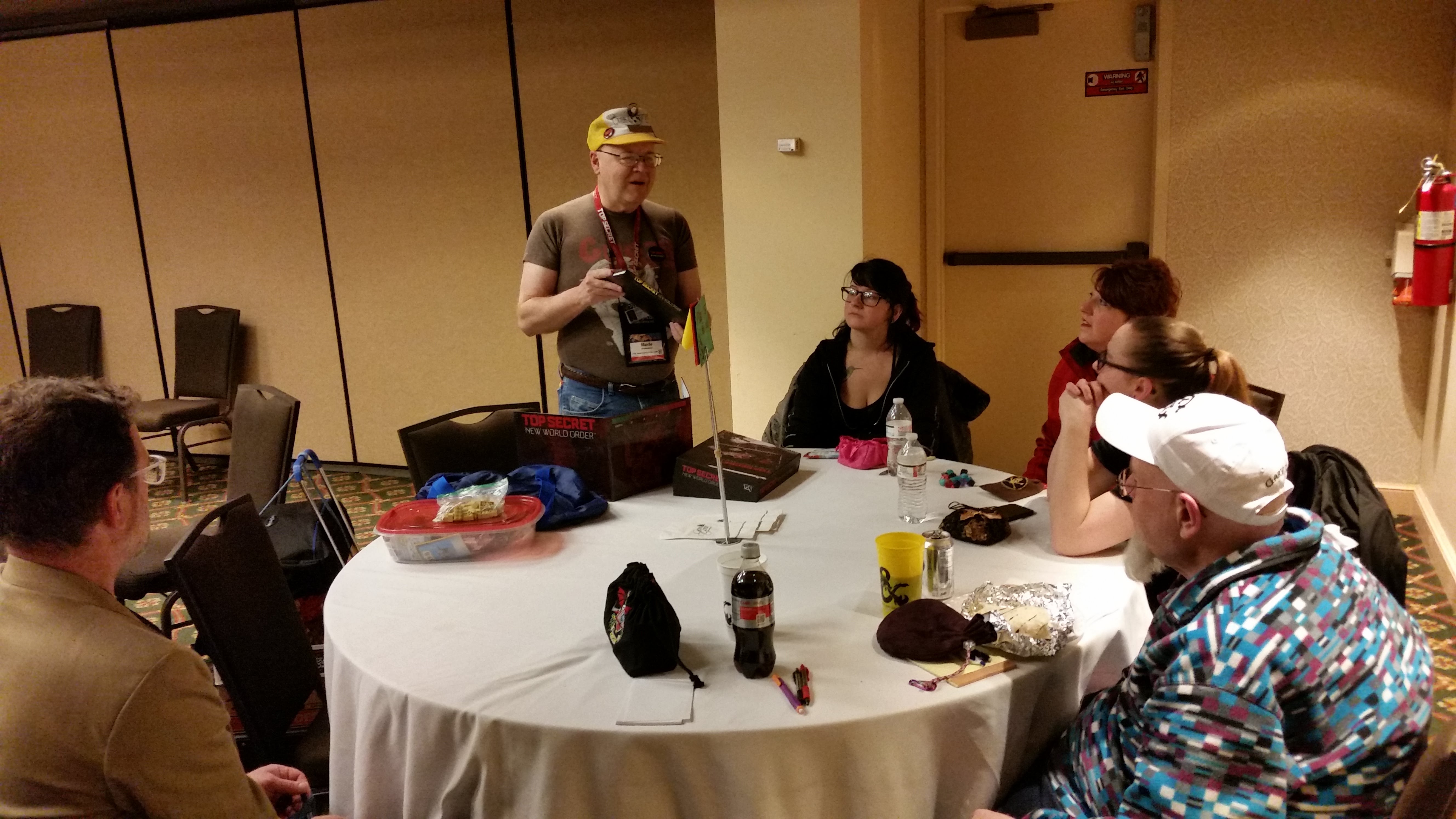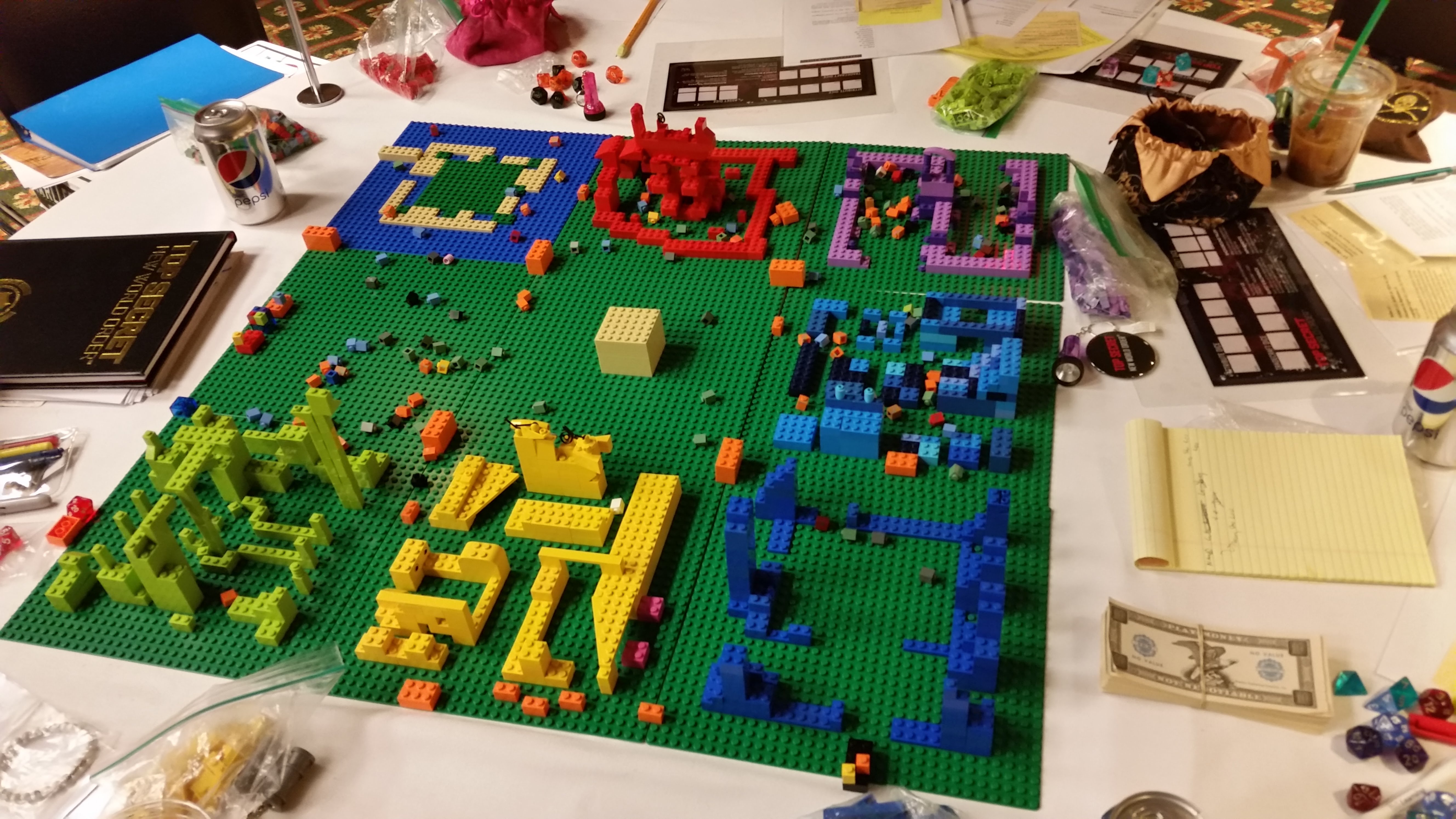 PLAYTESTING
I had a long break and ran several play tests of my card game. I had a total of 12 play tests at Gary Con X with 31 play testers from Wednesday through Sunday. Some played more than once. My game was a big hit with all who played it, and one person asked the name of it, and that was enough to hook them to want to play it. Nearly all asked, "So when's the Kickstarter?" without prompting. My response was either, "yeah, so when IS the Kickstarter?" or "Ummm, when I announce it?" It was awesome to have the rough edges worked out on the third play test, and very little changed after that. It is a much smoother and faster playing game than what I wrote about in the first two play tests before Gary Con here.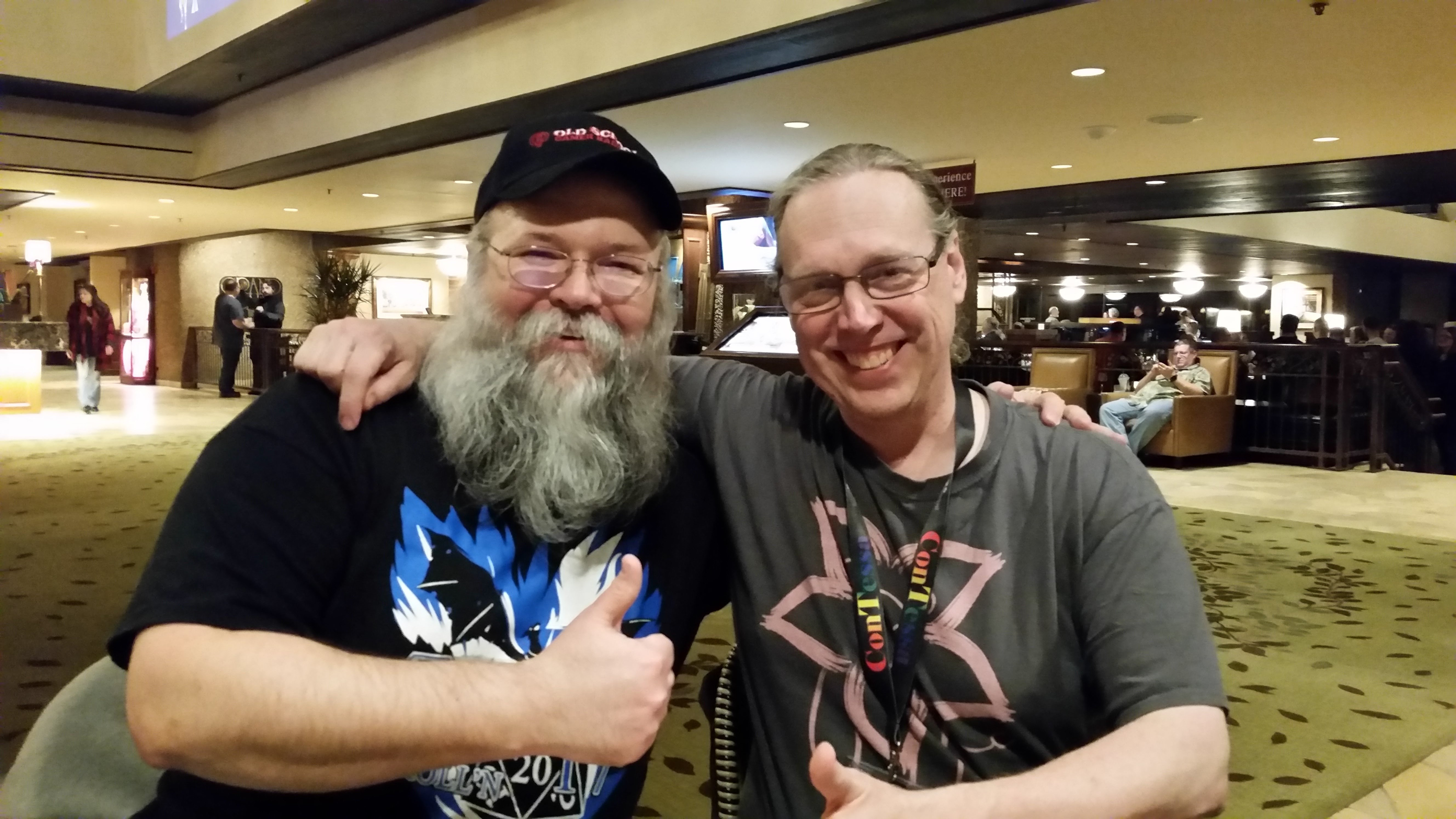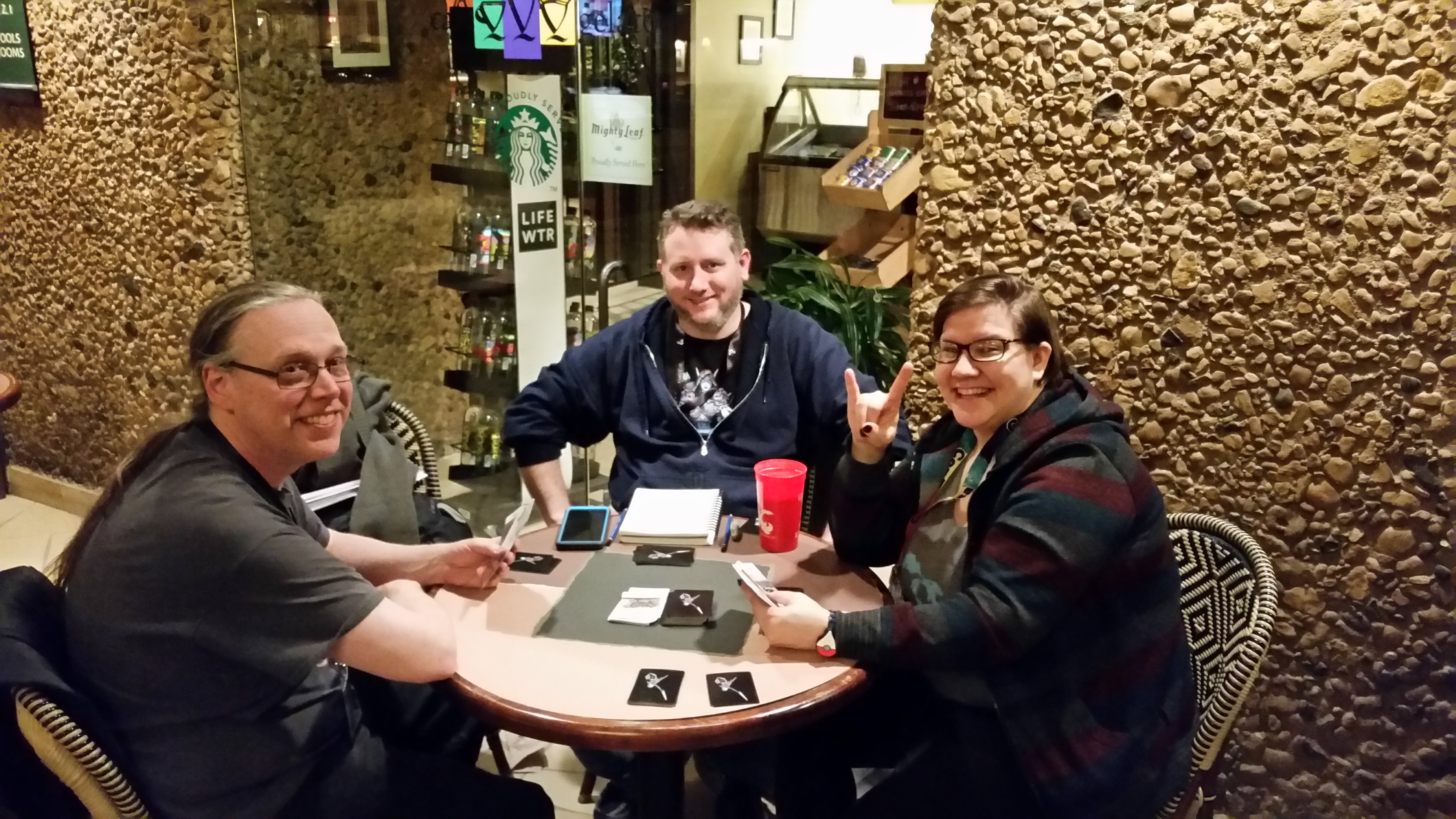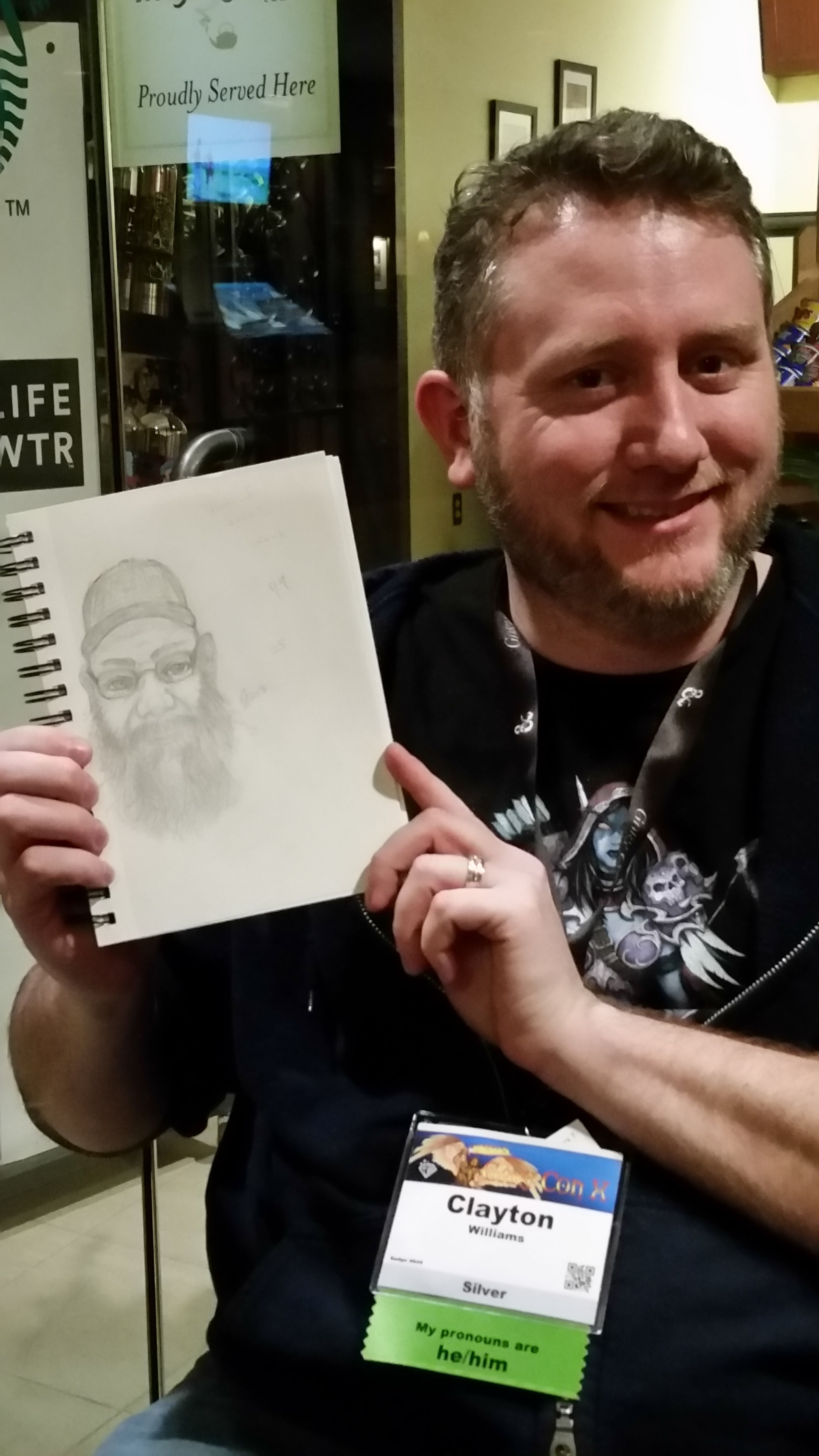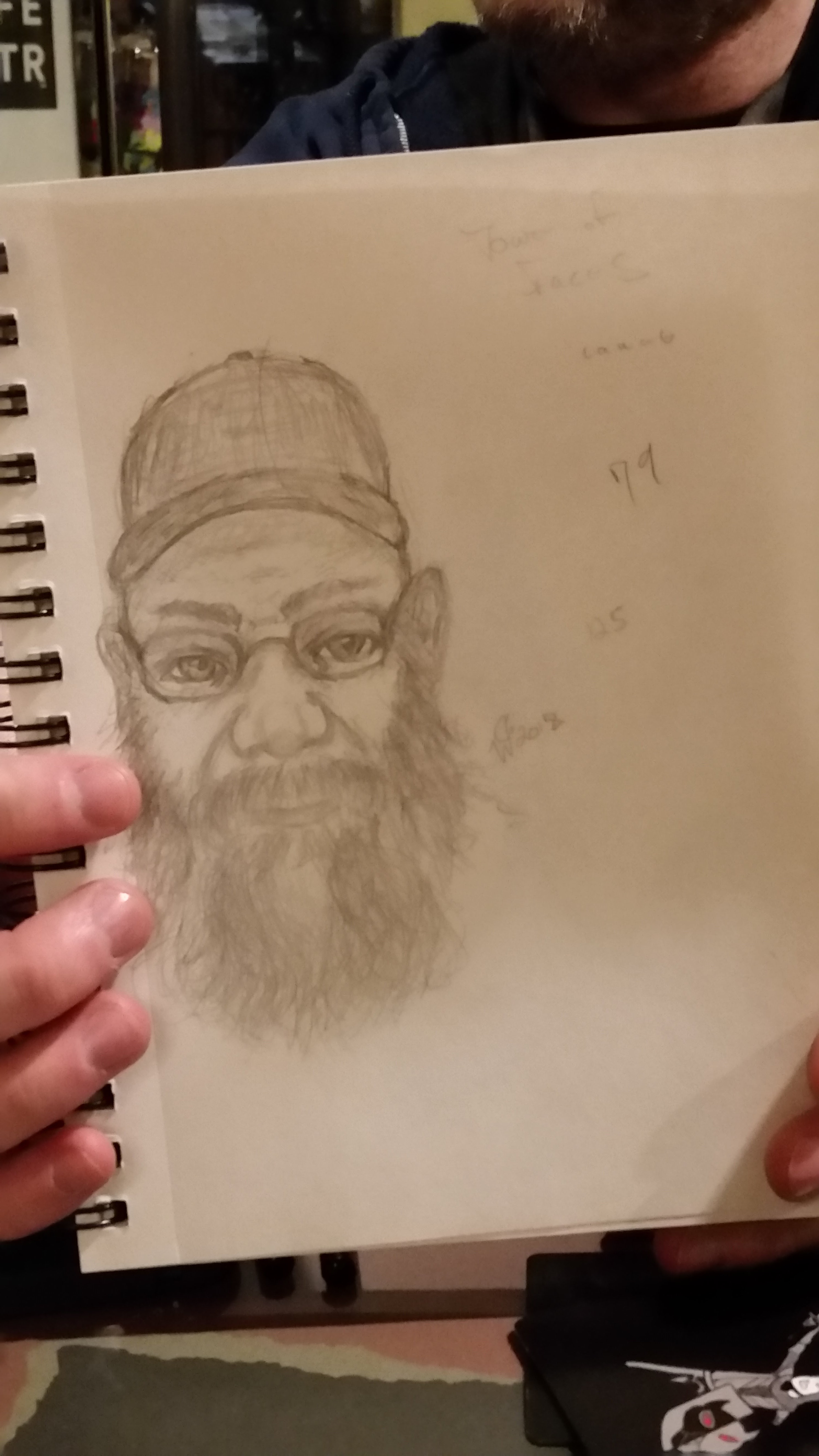 I have lots of offers to help with various aspects of card design, art, card production, etc. One person told me he had an idea that might not require Kickstarter. Two recognizable companies said they could help me with one or more aspects related to Kickstarter/fulfillment.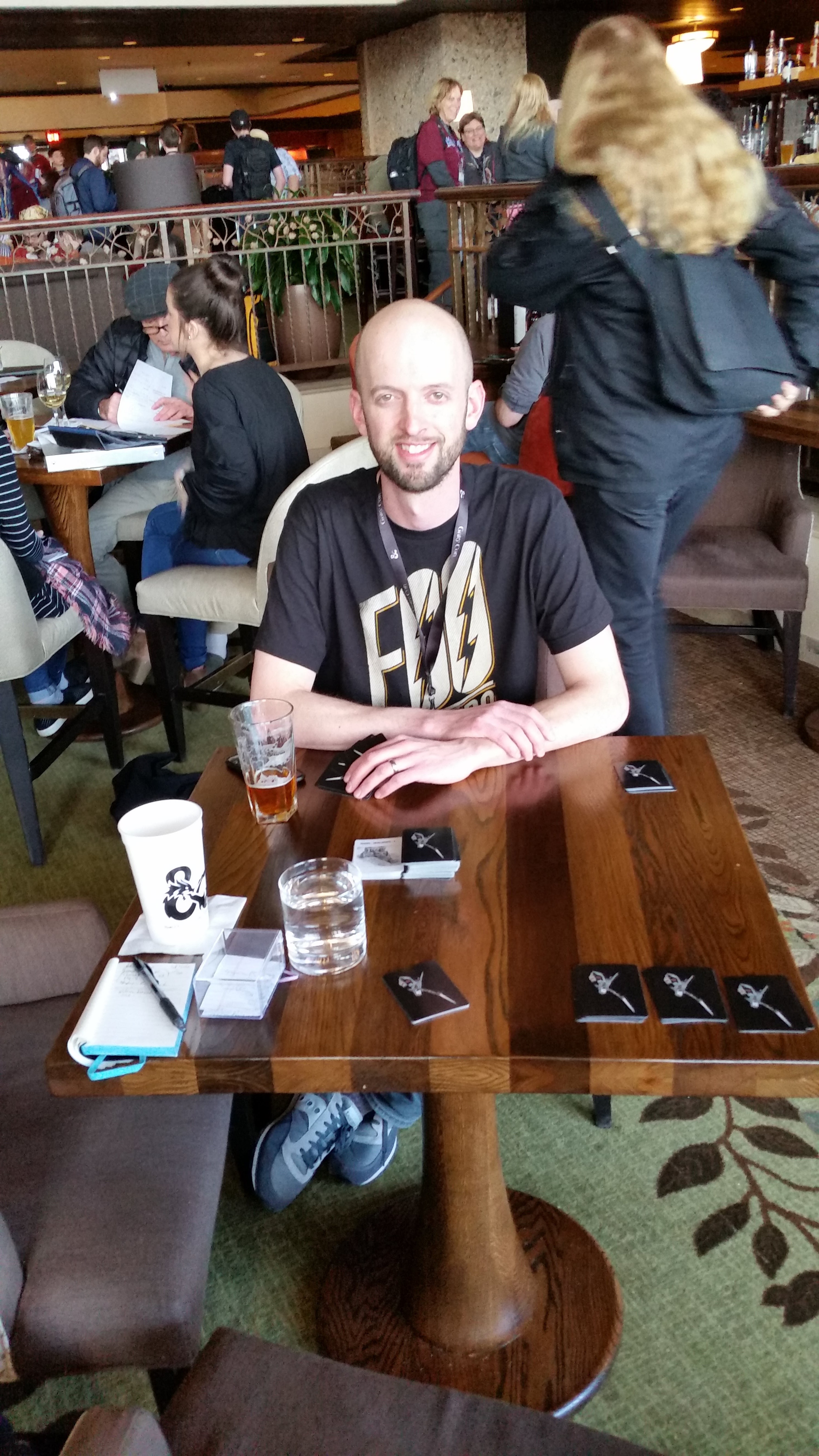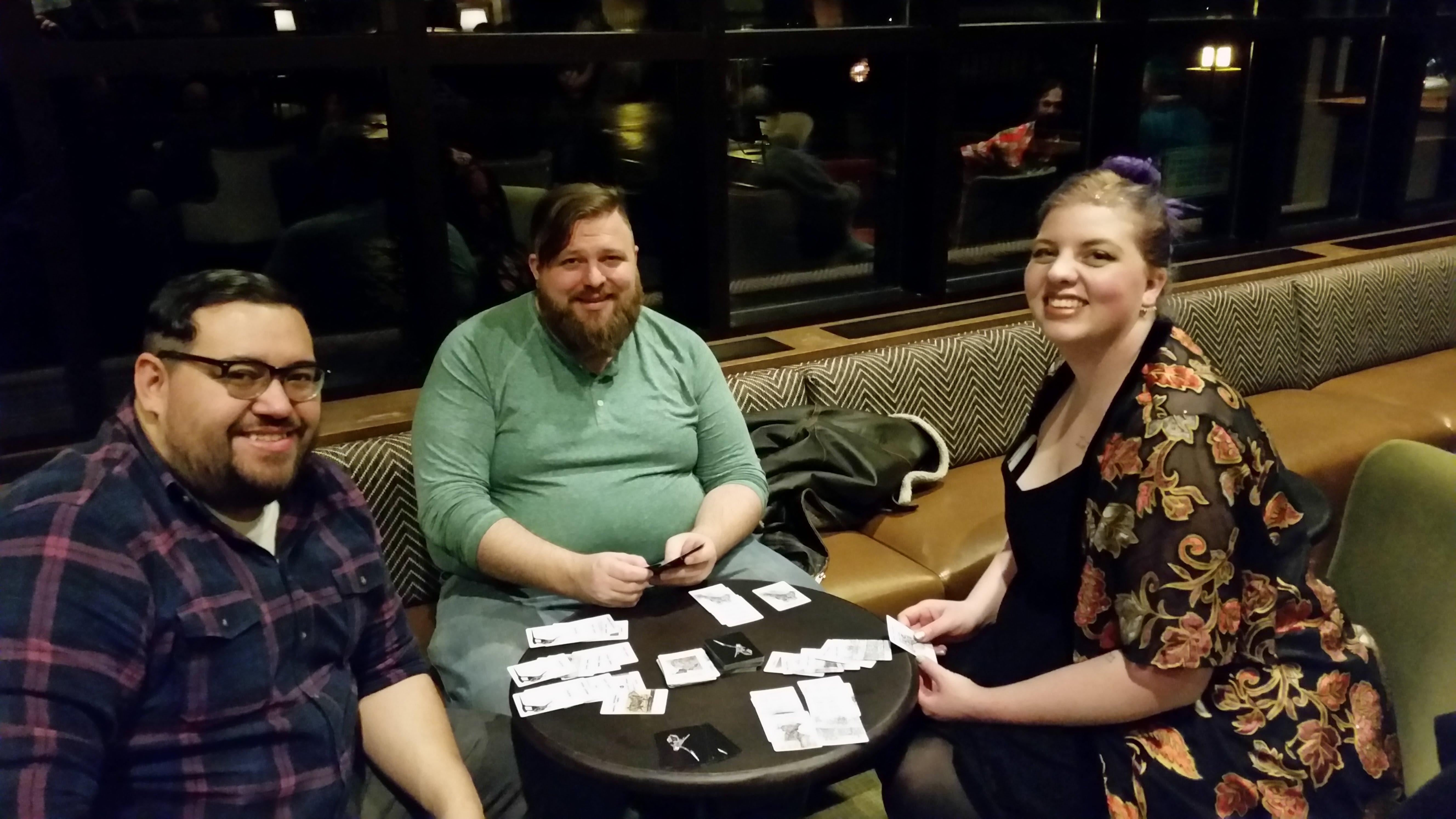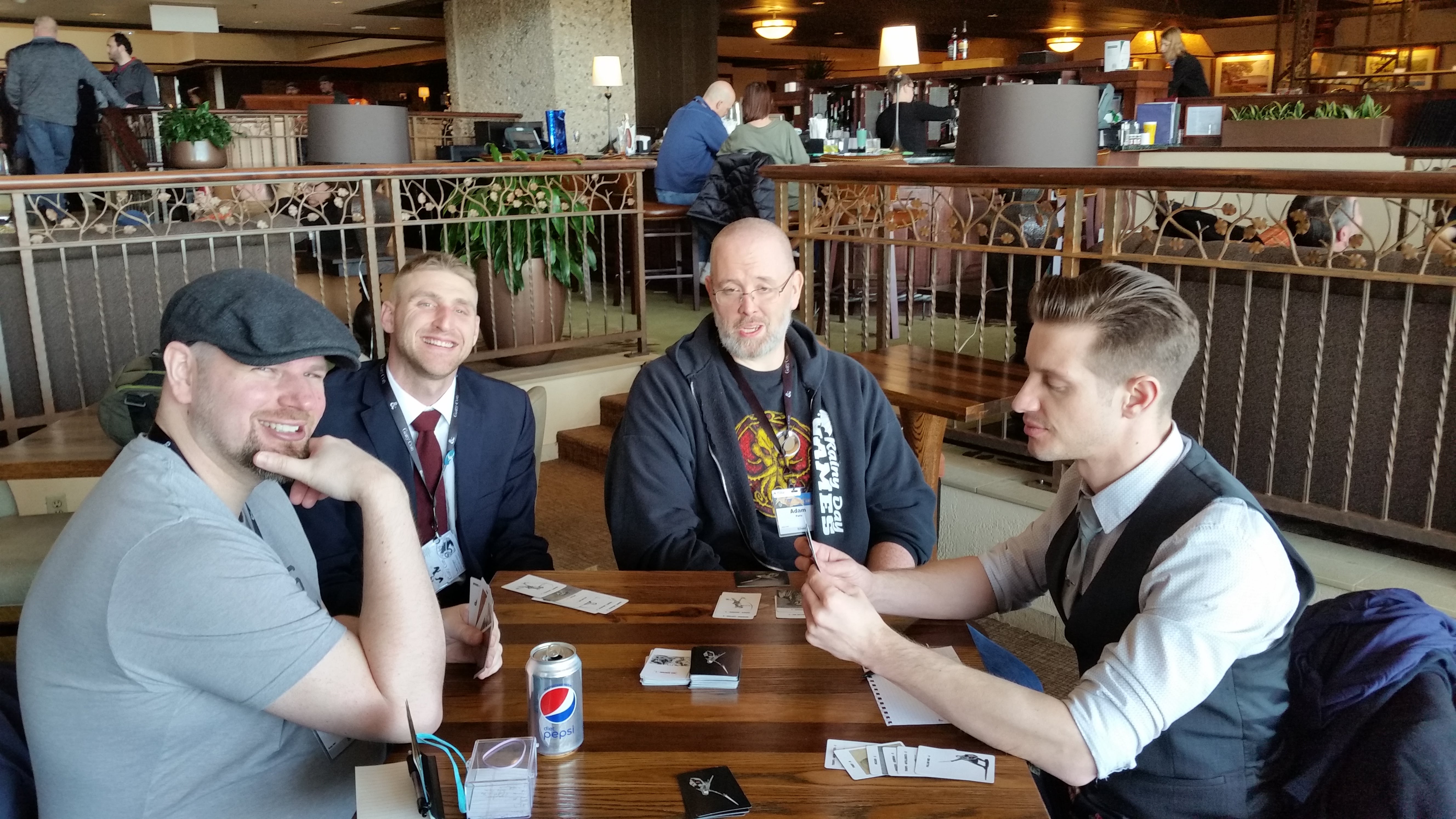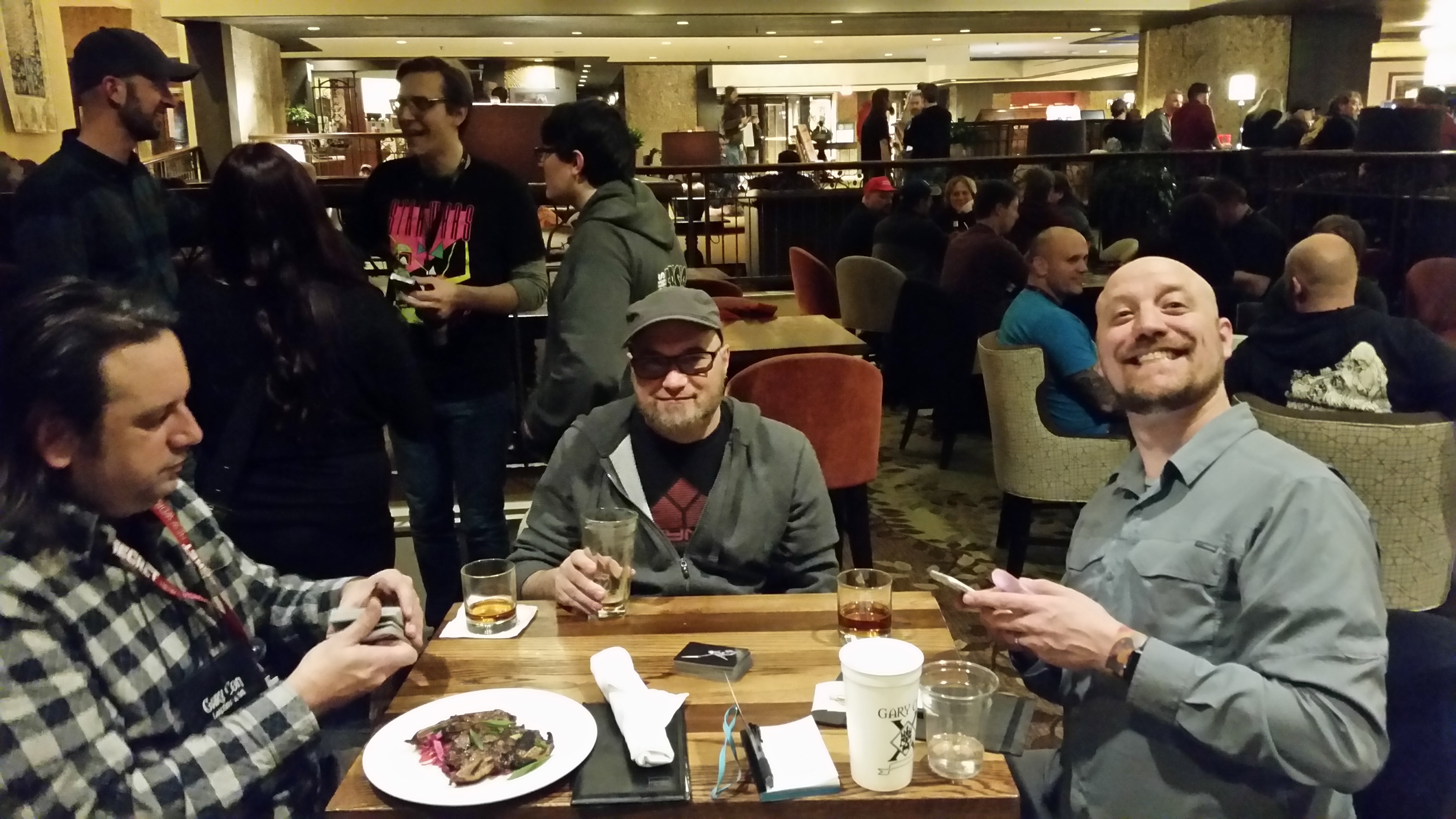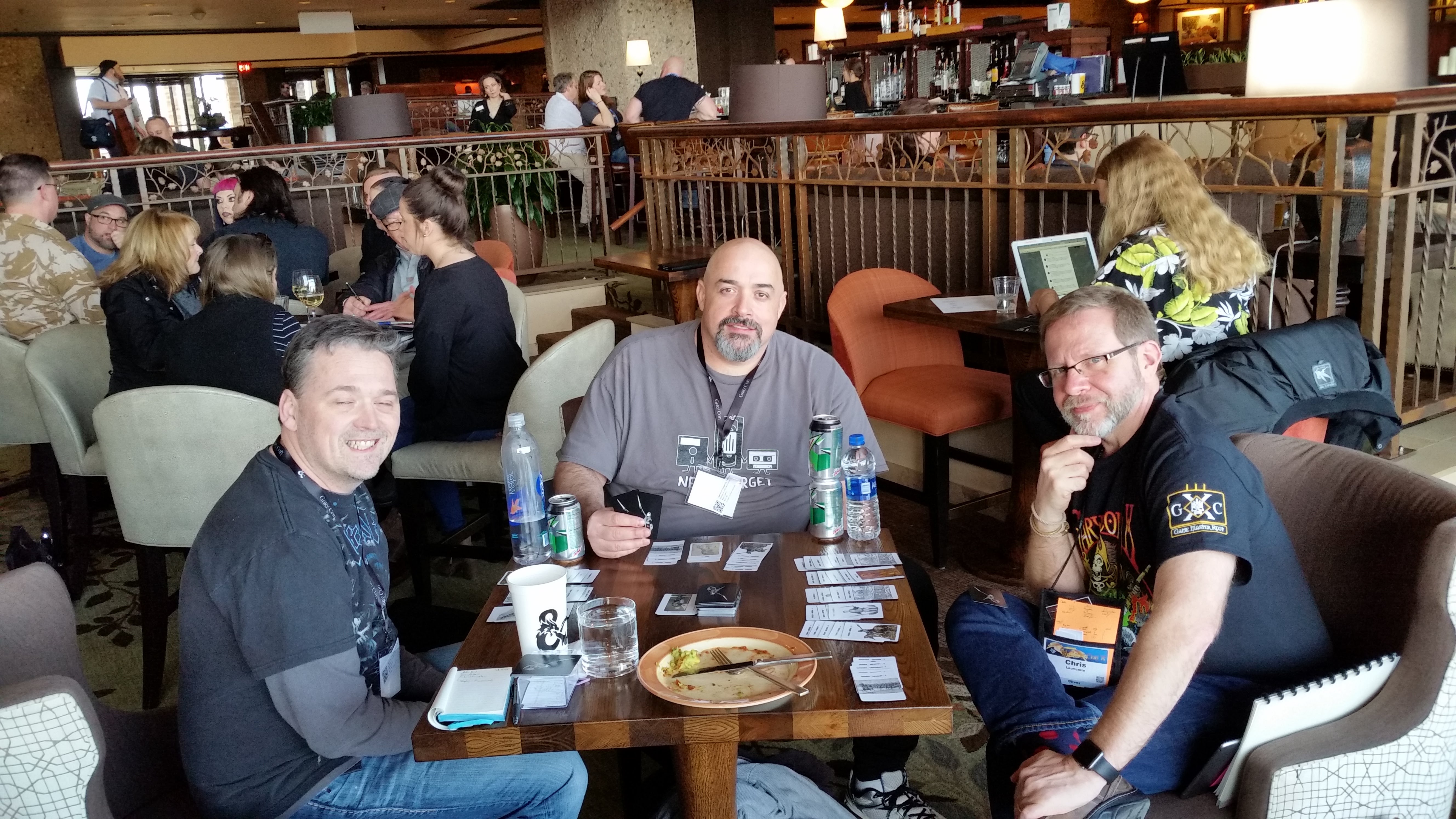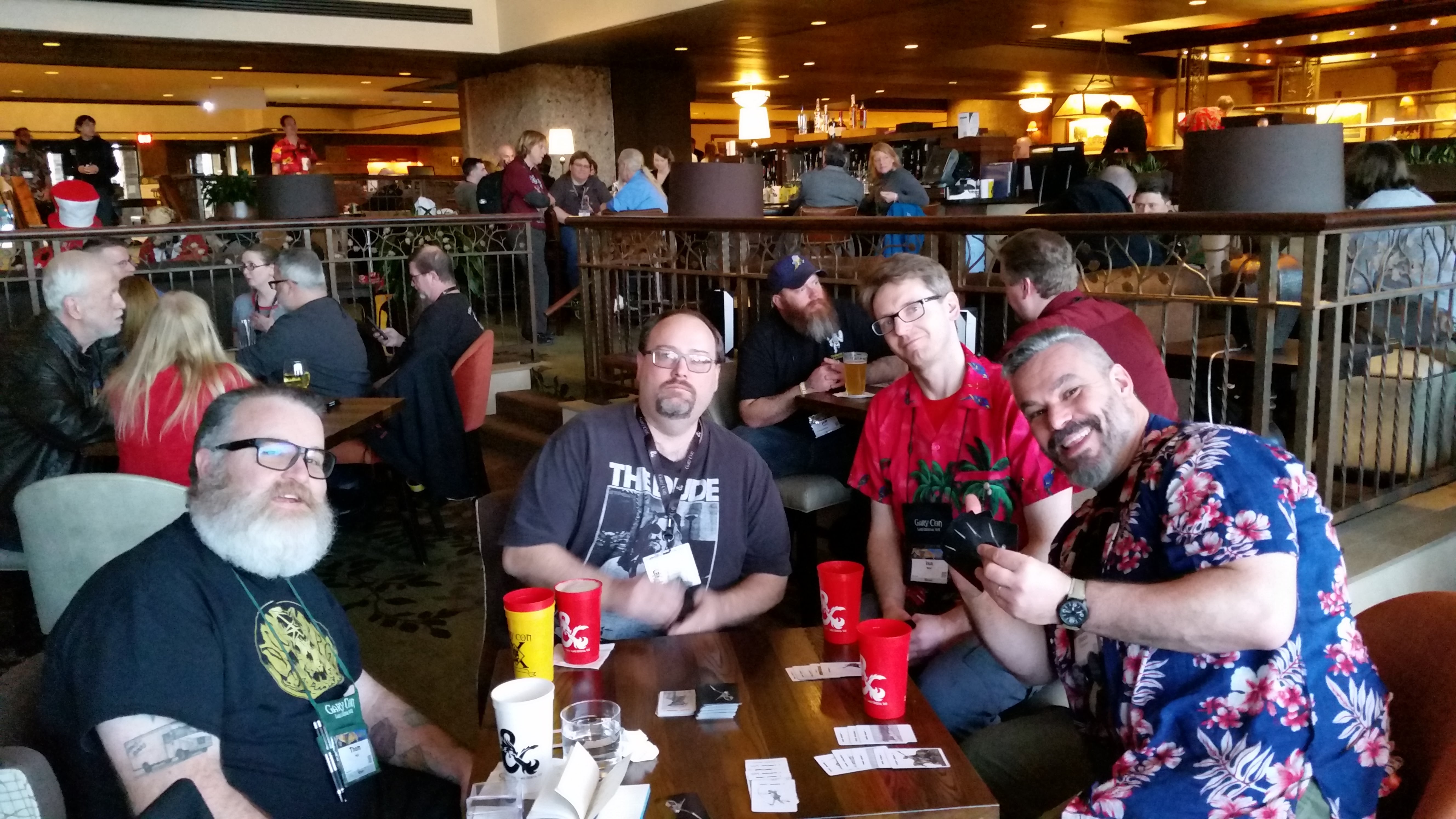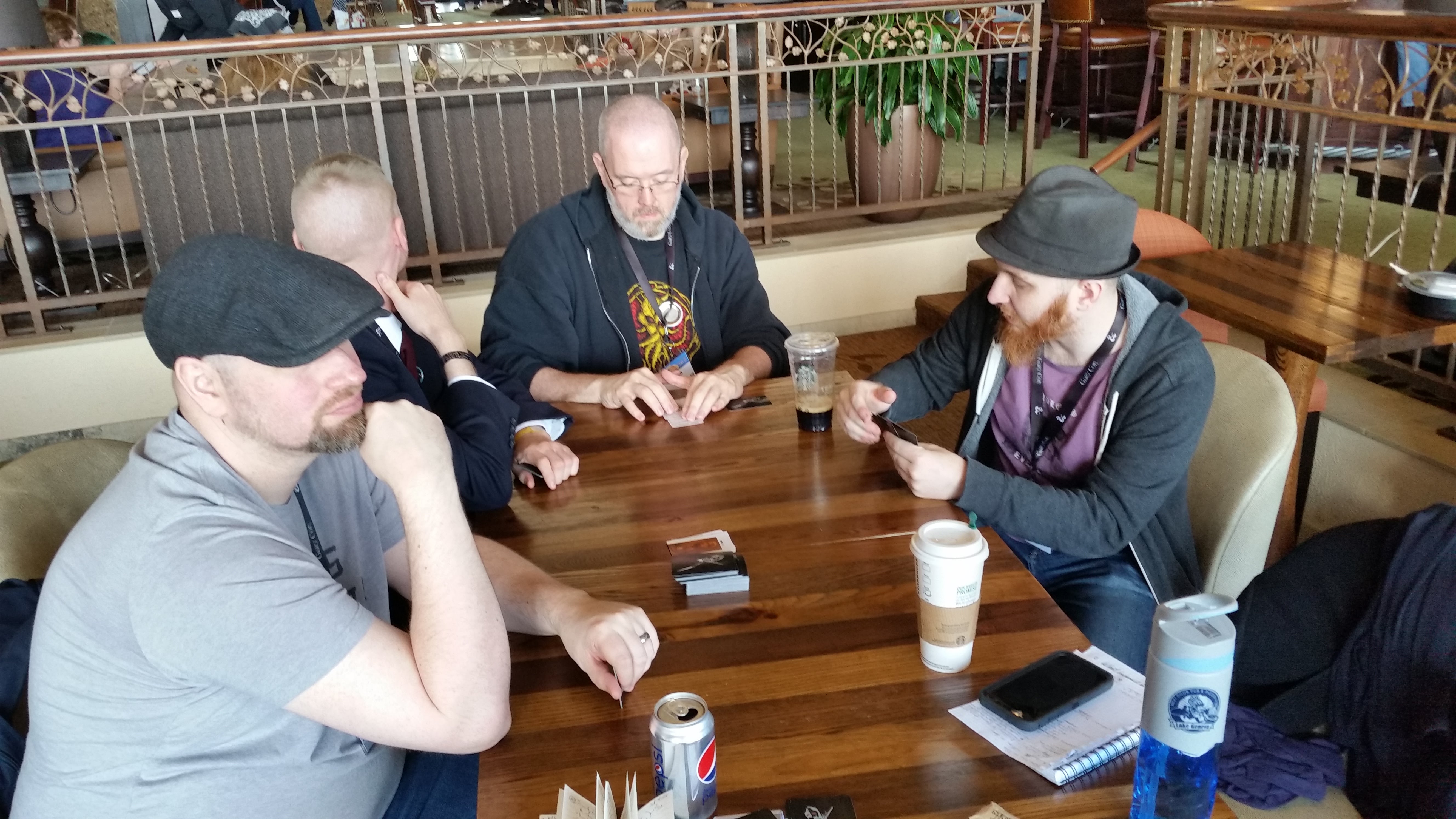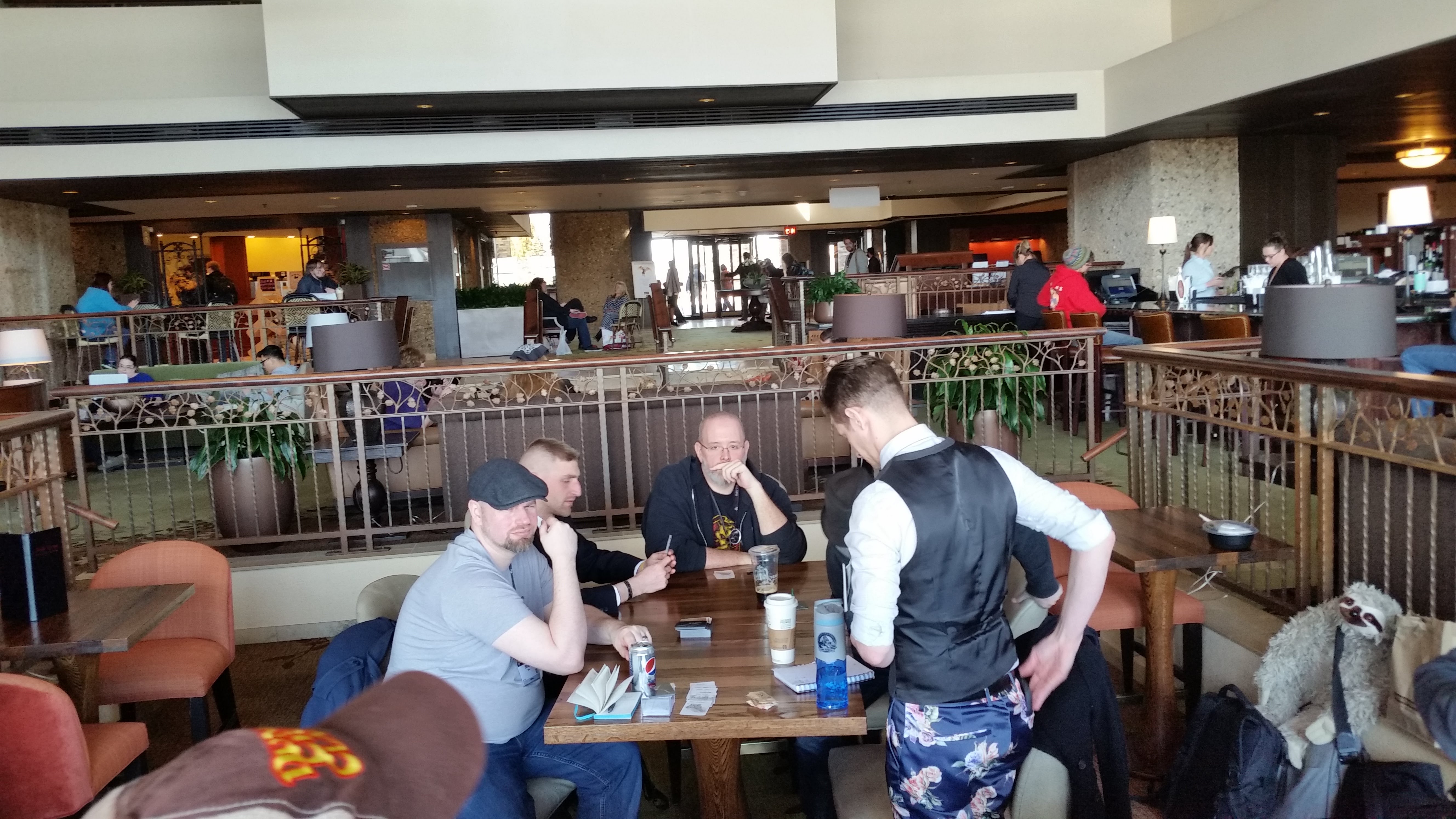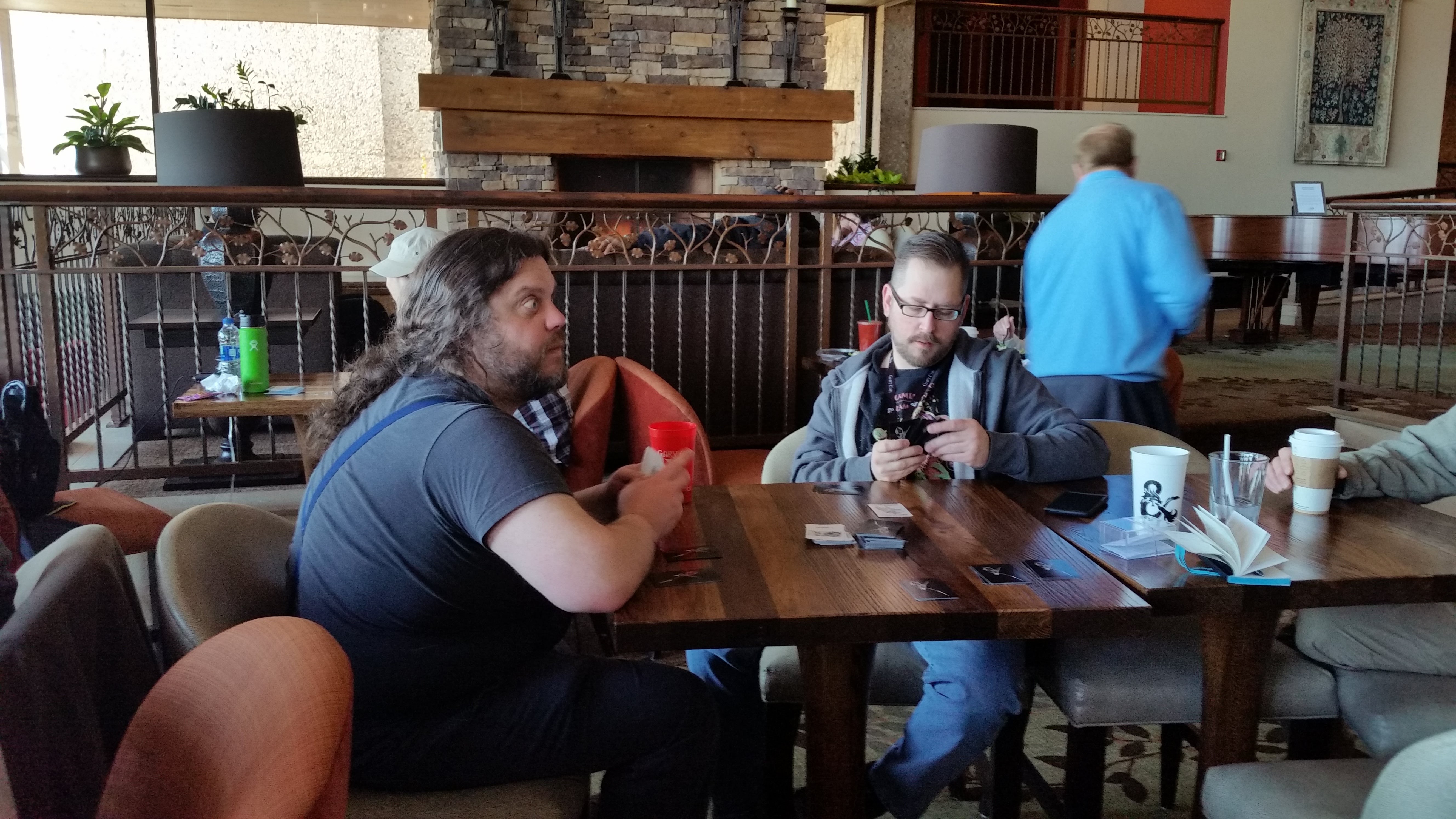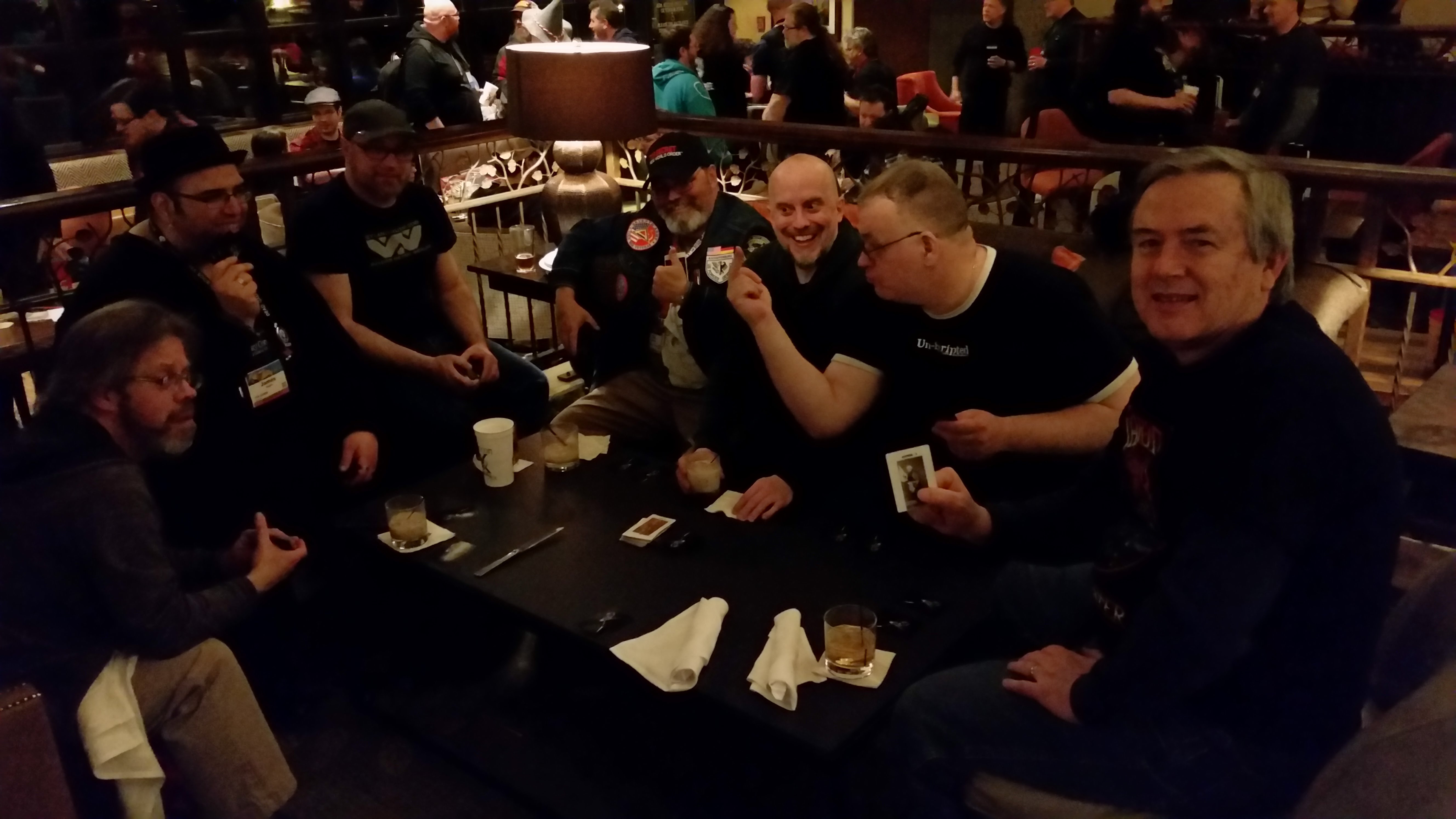 I find the whole thing hilarious as I don't play many card games anymore since I don't have a regular group that plays card games. I have a catchy title, an interesting premise, and rules that make it quick to catch on. I was saying, "I'm not a card game guy." but not that I have a card game I realized that I am so I started saying, "I am a card game guy."
I finally played the game today with my oldest son, and he gave me more suggestions about where to take it once it hits critical mass. He also is really good at card tricks, and made a joke with two of the cards and made it look like he turned it into another card. Now THAT will be in an announcement/Kickstarter video.
There is nothing to announce yet, as I have someone doing some sort of statistical analysis, and he had some other ideas, so I am waiting on that. One cool thing a play tester said, "I like the simplicity of the game with simple rules to learn in 5 min. at a noisy bar at Gary Con." Sunday, I was really tired, and I was making lots of mistakes in play. the rules are so simple that players can correct an exhausted creator of the game on his errors. Out of 15 games that have been played, I have played them all and managed to win 5 of them. I am usually spending so much time helping run the game that I am mostly reliant on getting good cards. However, it is so cool that people like my game and want to play it, that I'm OK with never winning a game. I'm usually very competitive in such games, but I find I'm much more relaxed about my own game. It is because I've already won the grand prize of the multiverse by making a game that works and people want to play. "I made a thing and people think it's fun and want to play it!"
IF I do a Kickstarter, I will be very careful, and stretch goals will only be card game related, like better paper, better finish, etc. I will have all the work done on typing up the rules, lining up card printers, etc. I know it will be a success as one established RPG You Tuber played it and said he'd mention it when it was time for the announcement of something. I'm not mentioning the name of the game, or anything specific until I work out a few more things. I think I also need to consult a lawyer, among other things. Patreon is in my future. I know have all kinds of ideas for card games, along with my ideas for RPG supplements, and YouTube videos. I now have a new focus to make game stuff that I never really had before. That too, will not be overnight.
All I've managed to do today is type up my play test notes, write a big thank you to all the EXCLUSIVE Gary Con X play testers on social media, and watch a little TV so my brain can decompress. I also managed to crank out this article, as I know work will be crazy tomorrow.
If you plan to go to Marmalade Dog, March to , 2018, I will be there running one session of Metamorphosis Alpha, and one of AD&D, and I will have my prototype card game. Be one of the EXCLUSIVE Marmalade Dog play testers and get mentioned in the credits as a play tester.
IRCA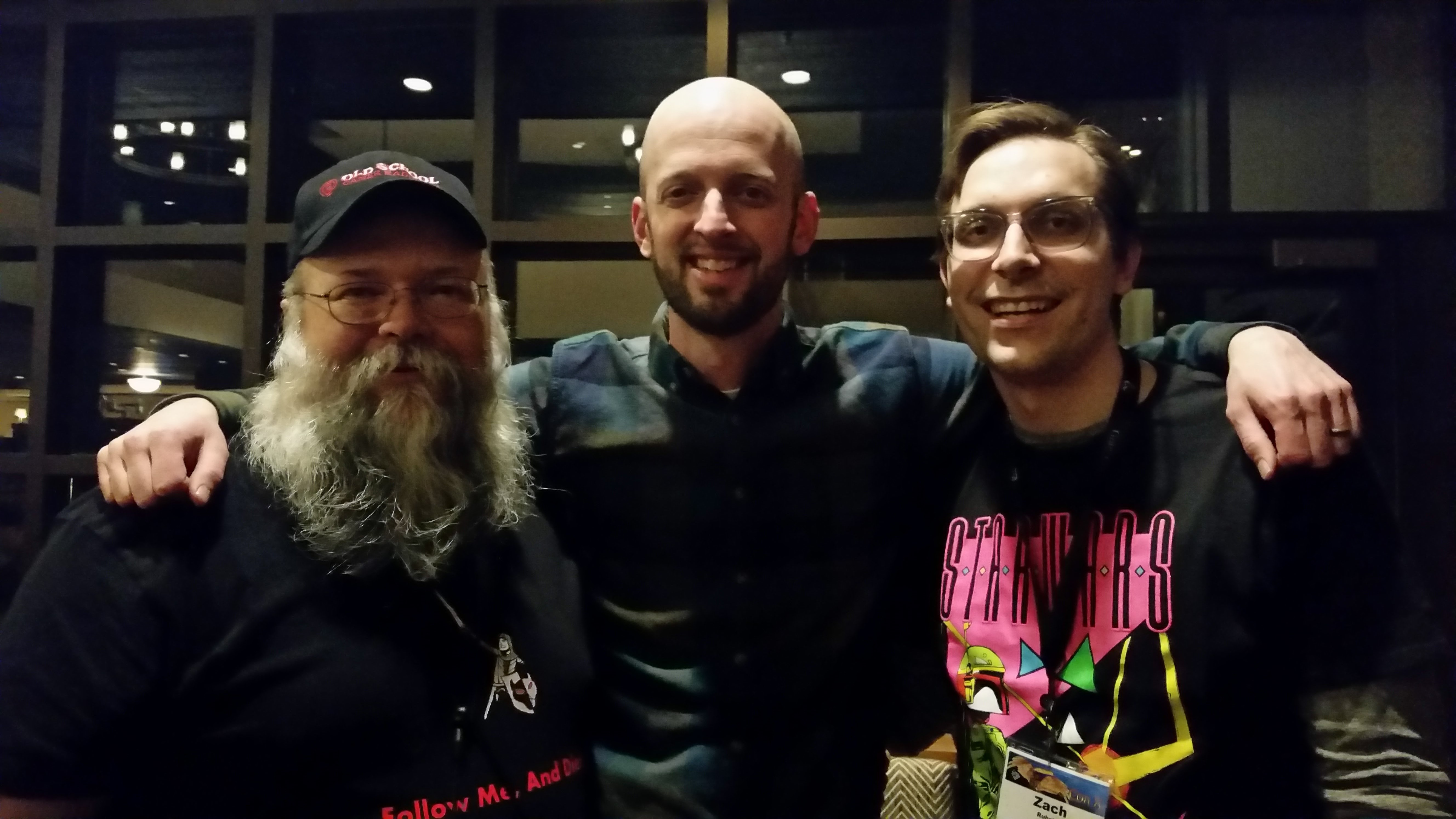 WASD20
Nate Vanderzee of WASD20 was hoping to interview Satine Phoenix. I helped introduce them and watched him do a great interview. Satine is so fun. She teased us with her excitement of something big she can't talk about. Man, am I curious.  Nate lives in Grand Rapids, so maybe we can get a chance to game together. It was really cool that he played my game and liked it!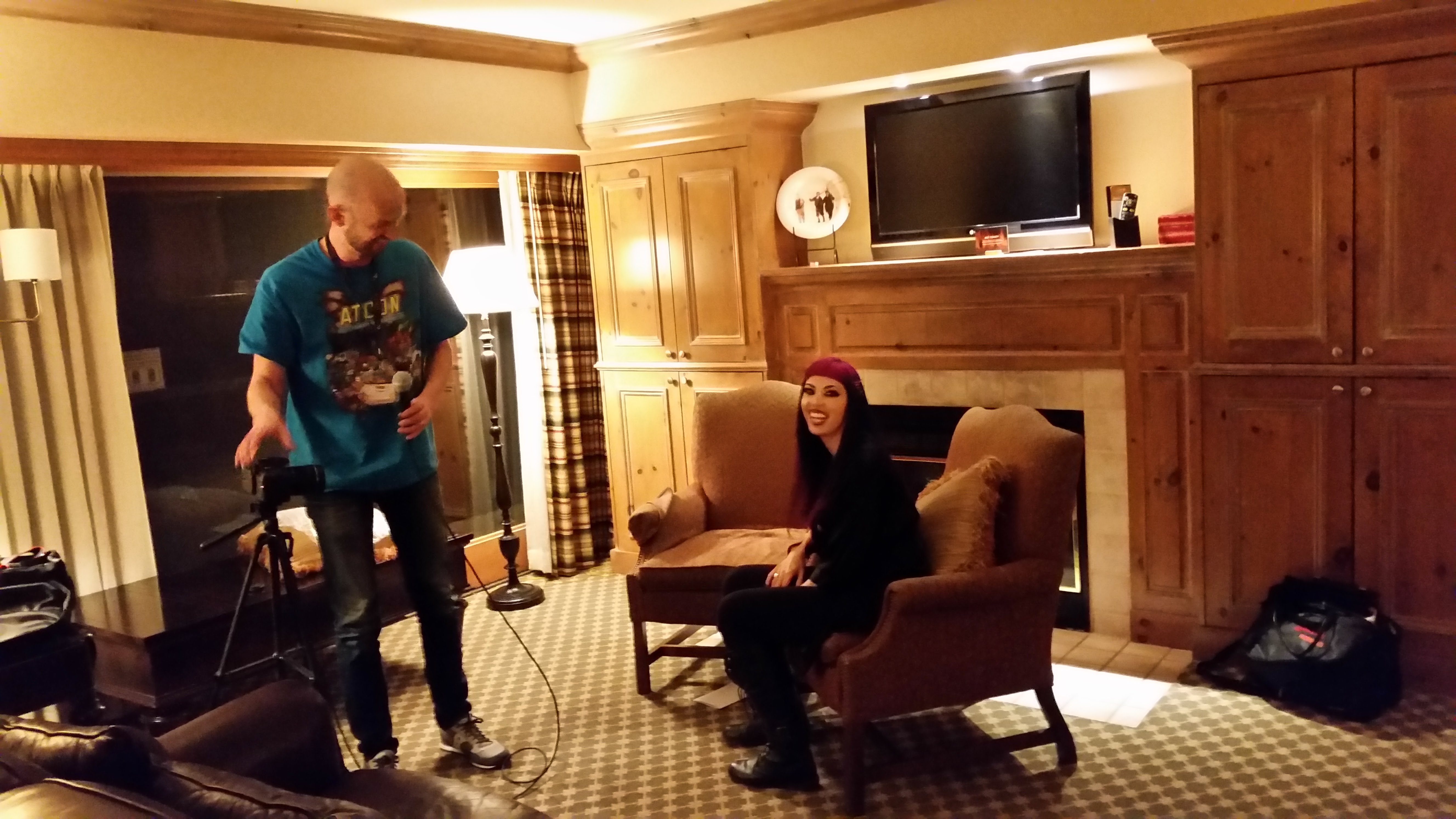 Getting ready to interview Satine PhoenixYou can see the interview here.