I don't specifically recall my first powerful monster.
I did have a character, Griswald, meet a youngish dragon and nearly killed it, but it still had enough hit points to fly away and shout "Revenge!" as it flew away. The dragon's name was Voriax (sp?). I always want to say, Vermithrax, but the is the name of the dragon from the movie "Dragon Slayer."
My plans were to hunt it down and kill it. However, a party of adventurers found it years later and slew it, because there was always some other more pressing matter requiring immediate attention.
Griswald did encounter a wolfwere hit only by magic weapons. He was traveling with a group of NPCs and he had the only magic weapon, a +1 spear. He killed it single-handedly. When the group reached their destination of safety, the group snuck his shield away in the night and had a wolf's head device with a field of one side black the other side gray with a wolf's head the half-black/half-gray side opposite the field, and the wolf's eyes are red. With his exploits he soon became known as "The Wolf" and he accomplished a lot with just the swollen truth of his rumored exploits. He had just enough real exploits to back up many of the rumors, so in a pinch he could make real the fears of those opposing him. Sometimes he fell flat, but he is a blast to play and has jumped out of the fire in the nick of time many times.
Below is the image Robert drew. I colored it partly with colored pencil and partly using computer tools. I have a better finished image somewhere. At least this gives you an idea.
[EDIT] – I found the "better" image I was thinking of, it is below on the right with the solid black, bright red eyes and "speckled" gray.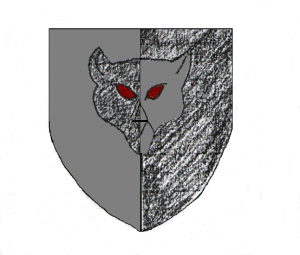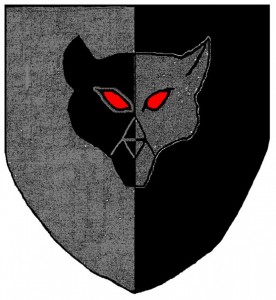 Griswald's Personal Device