Yesterday when discussing the first D&D product I ever bought, the blue-box set, I mentioned that I still have the dice that came with it.
Their utility is limited.  The d4 is the only one I still use. The d20 is nearly a sphere from all the edges chipping off over the first couple years of play. The d6, d8, and d12 have also had a lot of chipping and aren't good at a roll. The d4 does not really roll, so I still use it.
These were the ones that the numbers were not colored. We drew the numbers with the crayon provided, but it did not work well. I remember a couple of years ago reading on other old school blogs that you were supposed to run the crayon over the numbers like a cheese grater to get them filled in. I never understood that from what I read. Since I don't have that box anymore, I can't re-read it to see if it had it or not. That would have been a lot better. I think we ended up using a red felt-tip pen with a fine point. It still managed to fade easily, so new dice were soon purchased.
See this picture to really understand. At the moment I can only find the d4. The d6 is orange, the d8 is green, the d12 is blue and the d20 is white.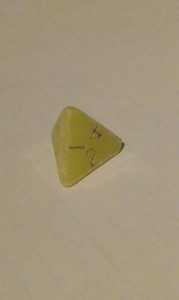 [EDIT] Now I am not so sure if the dice came in the box or what. I located the rest of my old and worn dice and I have two sets. I do not recall if one set came with the blue box and I bought a second set so my brother, Robert, and I would each have a set, or if I bought two sets, etc. It is hard to tell from the pictures just how rounded the d20s are.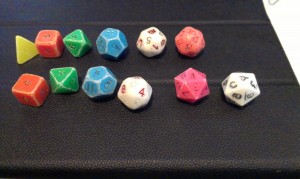 I also found the second dice a bought, two all-whited d20s and two all-white d10s for d100 rolls. The d10s and d20s are badly rounded. I quit using them as soon as I got some clear dice with sharp edges. I don't recall exactly where I got my current dice.