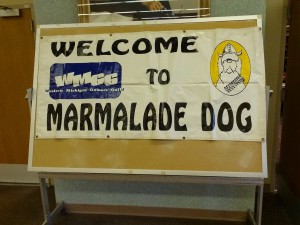 The first slot started Friday at 3:00 PM. I was too late to join in a game, so I visited with Roy Snyder and Adam Muszkiewicz  and Pete Schwab  and others until the 7:30 PM slot when I was set to run T1 – The Village of Hommlet.
When Adam and I were talking the topic of random tables and drop tables and all the dice tables came up. I mentioned that I am slowly crafting an all the dice type table to help me generate area of an ancient "abandoned" city for houses, building, and other features. Adam pointed me to a display at Roy's booth for Metal Gods of Ur-Hadad, Winter 2014, Issue #1. Pages 10 and 11 have a neighborhood generator, and pages 12 and 13 have a gang generator. The neighborhood generator has a lot of ideas that I am looking for so I bought it.
No one signed up for my slot, so I played in Adam Muszkiewicz's Kickassistan session. Roy, Pete, Andrew Moss, Jared Randall, and Laura Williams all joined in. I had never played DCC and it was great! Adam had an interesting concept. Our character sheets where blank 3×5 index cards. We rolled for random professions, and birth portents. We did not roll any stat until we needed it. Each character was first level, so we got to pick a class. Adam had different players make up why we were their based on our known information. If we were rolling for our main ability for our class we got two re-rolls, but had to put the rolls on another stat. This was with 3d6.
This was the first cooperative role playing session I had ever played. Normal roll playing is cooperative, but this was a few notches up. It gets all the players involved in making an interesting story. After the game, I talked to Adam and we were on the same wavelength and agreed that it either had to be a rules system that the GM had total mastery, or something so simple to make mastery trivial. We both agreed that Delving Deeper would be a good one. Adam had a rough idea of what he wanted to do and greatly encouraged us to come up with something creative, even if it was off the wall. The most hilarious thing was that Roy Snyder invented the Minotaur Class. It would take too long to recount all the hi-jinks the Minotaur got up to. I can't wait to see the write up for that.
The way this worked is if one was a fighter, they rolled their strength and other associated scores when there was combat or some other reason to know that score. For wizards, we got to pick two spells and toll for two. My character rolled a secondary profession of a sage with a dagger, quill pen, and piece of parchment. Based on this, I though a wizard made sense. I rolled intelligence and it was a 13 so it gets a +1. There is a table in DCC for Mercurial Magic effects. Also there is the concept of point burns, where one can use a point of a physical ability to boost the chance of success. This point burn is temporary. So the first time I cast a spell, charm person, I elected to burn two points of strength, then I had to roll my strength, and I rolled a 4. Thankfully, I did not say I used 4 points of strength, because when an ability hits 0, you are dead. The mercurial magic effect for that spell was then rolled, and it requires spells to be cast with point burn or suffer corruption. There were two other spells that I used and found out their effect. For Flaming Hands, the effect is gender bender that lasts an hour. Finally, Color Spray had the effect of memories of a dying god. I had to roll a d20 to determine the effect. If I rolled low, the dying god would take over my body, if I rolled moderately well, I would avoid the worst, but still have to roll every time. I rolled a natural 20! Adam was amazed. By rolling a 20 this meant that I had mastered the dying god's memories and a new one would be revealed each time I cast the spell. Plus, it supercharged my casting and I always roll a d24 instead of a d20! Each time I cast Color Spray, Adam asked different players what the specific memories were of the dying god, and it was quite entertaining. I don't yet know what happens if I use Magic Missile or Spider Climb. I also never took a hit, so I don't know how many hit points I have.
I like the magic system. It is simple, but requires tables to determine effects. Each spell has its own table. If one does not like fire and forget Vancian Magic, the DCC system or similar is easy to mimic. The wizard can cast their spells at will and just roll a d20 for effect. The point burn mentioned above can give a boost to help insure success. The bonuses to the roll without point burn is +1 per level and  and pluses for abilities over 12. One can add another plus for each point burned from physical abilities, Strength, Stamina, and Agility. If the roll is bad, but close to success, one can burn luck points, but those don't regenerate, but GMs can award luck points.
The only complication to playing DCC, besides needing a new set of rules, is the need for non-standard dice and in the all the dice tables in the issue of Metal Gods of Ur-Hadad, i.e. d3, d5, d7, d14, d16, and d24. I finally got a d30 this past summer at GenCon, but need the others. By the time I decided I needed to buy more dice, the vendor selling dice had already packed up and left before the end of the night Saturday. It is easy to simulate the d3, d5, d16, and d24 using other dice. I am tired and not thinking how I would simulate the d7 and d14. If you had either a d7 or a d14 you can easily simulate the other. So, an online search for more dice may be in order.
After the game on Friday, we went to a bar and closed it. I only had one beer, since I had to drive 15 miles back home. I had not closed a bar in a long time, but we sat around talking about various RPG related topics, from systems to genres, to play, to Kickstarters, and more. It was a lot of fun!
In the first slot on Saturday I played in the DCC funnel ran by Mike Carlson. All four of my characters leveled to 1st level and survived until the last roll of the adventure. We had to make a luck roll, below our luck. One of my characters started with a 16 luck and had burned one, so I had to roll a 15 or lower and rolled a 20. Two of the remaining three characters also failed. One player had non of her four survive. The other three players had two of their characters survive. Mike made a stamp for dead characters. It had a skull and crossbones on the handle and he used red ink to stamp the dead characters as dead. We had a blast.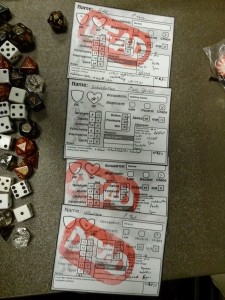 In Saturdays' second slot, two other GMs did not have full tables, so I had 8 players for Hommlett. So as my first time running a convention game, this was the first time for only two of the players at a convention game, but they were experienced role players. It was fun to see how Adam and friends, and Pete and Roy made this their own thing. They made it to the dungeon under the keep when we ran out of time. Everyone had fun, and I asked for any advice for me. Adam and others agreed that I should have gotten them to the keep sooner for a convention game. They all agreed that I ran it well for normal play.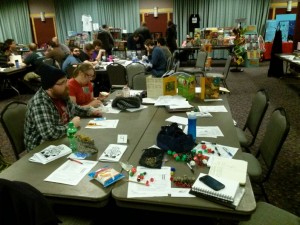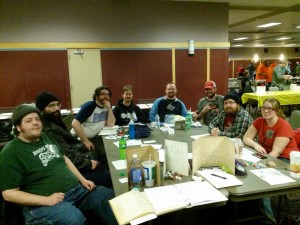 In the third slot of Saturday, I played again in Adam's Kickassistan session, and brought my character from yesterday. It was great! I still don't know my HP…. We had most of the players from the day before and some new ones and had a blast! Shane Harsch didn't have anyone for his 5th edition session, so he joined in. His wizard character, mine, and another were planning great things!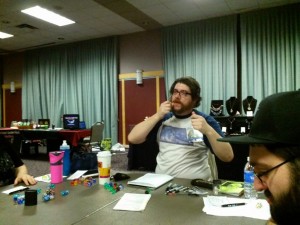 Sunday, there is one slot and I ran Hommlet again. I did not have anyone signed up for my session and Pete did not have anyone for his session. Eric Piper got called into work, so his full Castles & Crusades session was cancelled and I ended up with 7 players for Hommlet. I felt that I ran it much smoother and even though Pete knew what was there from the day before, he did not meta game. This group avoided some of the trouble of yesterday's group, but the cleric of this group went down the secret passage while the others were doing other things, and they found him dead. They rested until morning and went back to town, and I let them equip with the other cleric I had rolled. They only had one character in their group get knocked down. They got a lot farther in the lower level. It was fun and I see how I would run it differently still in a convention setting. Most of the players in this group turned out to be from the town where I lived, and we did not know each other, although two of them know my oldest son.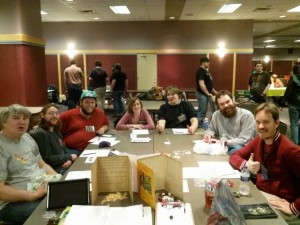 My analysis of running a module at a convention is that initially, I thought it would be easier, since it was all planned out. However, I did not know it as well as if I had put something together on my own. I was way over prepared. I wish I had put that much time into my own campaign, and I would have had a whole new area planned out. I am now able to run Hommlet any time with a quick review of the rules. There was talk from my first session crew of trying to finish it. I would like that, or if the second session crew wanted to keep going. Perhaps next year or at another con.
All of us who signed up to run a session are interested in meeting up for Marmalade Dog 21. If that group is there every year, I will be glad to go and run sessions and play.
Several of us also plan to go to UCon in November. I can't wait!