I bought a roll of hex Gaming Paper a couple weekends ago. Here is a quick review and some ideas I have for using it.
I had heard of Gaming Paper a few years ago, and I like the idea. One can use it for instant terrain maps for use with miniatures. It is also useful to cut some out and use to generate a hex crawl area map and take notes.
It is designed to write in pencil and be able to erase it. I tested and dry erase markers will wipe off, just like an ink pen, if you do so right away. I drew an X with a purple dry erase marker and waited for it to dry. It mostly wiped off, but left a faded X. So if you want to write something that it not permanent, do it in pencil, a high quality eraser is key.
I like the idea of cutting out a piece big enough to generate a hex crawl area map, and use it to write notes. Rather than writing or typing a list that then has to be translated to a map, one can do the initial notes in pencil, and then use ink when plans are solidified.
A similar sized piece can be cut and given to the players and let them map things out as they go.
The FAQ states that it did not feed well through printes when they tried it. Most likely because of how thin and slick it is. The rubber rollers need to get a good grip on the paper for it to feed properly. The blue color of the lines is the kind of blue that probably won't scan or photocopy well. If you are using pieces larger than a standard scanner, you would not be able to scan it easily.
The only time I really use miniatures at the table is for marching order and placement in combat. Gaming paper is a much less expensive option to a battle mat. The paper is generally spill resistant, and it is designed to be rolled up and re-used.
It is tear resistant, so there is not much worry about frayed edges. It tries to roll itself up, so a means to get it flat might be needed. I tried blue painter's tape and it did not take away the surface when removed. I even put a piece of Scotch Tape on it and it did not pull away the surface.
I cut a piece about 18 inches wide, and was going to use it to re-do and clarify the peninsula where the players in my AD&D campaign are running around. I then realized, depending on the scale for each hex, I didn't cut it wide enough. So remember, measure twice, but once….
From my experience, very sharp scissors are better. The paper resists tearing so you can't just slide your scissors along to make a quick cut.
Below you can see the piece I cut and how well it covers my work space.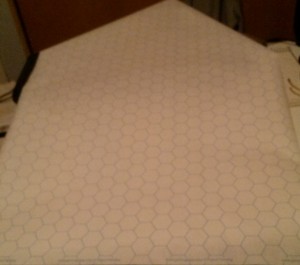 If your FLGS doesn't have it, you can go to the Gaming Paper website and order direct. They have free shipping on orders over $50.00.