Today, I saw a post on my sister's FB wall that our maternal grandmother's cousin, Blaine Gibson, died.
Many don't know his name, but he is a credited artist in several Disney cartoons: Fantasia, Bambi, Song of the South, Alice in Wonderland, Peter Pan, Sleeping Beauty, and One Hundred and One Dalmatians, and others.
His desire was to always be an animator, but when Walt Disney found out that his hobby was sculpting, Walt made Blaine the chief sculptor.
Blaine always sent hand made Christmas cards to my dad and others, with sketches of him walking his dog in the snow. He also sent a nice color sketch to my parent's for their 40th Anniversary.
As a sculptor, his first famous work was the head of Abraham Lincoln for the audioanimatronic exhibit at the 1964 World's Fair. He went on to do the heads of all the presidents, except Obama, and came out of retirement to add H.W. Bush, Bill Clinton, and G.W. Bush. His apprentice did Obama. My mom's favorite story from Blaine about creating all the audioanimatronic heads was the response from a glass eye manufacturer when asked for pairs of glass eyes. The mere idea was absurd and took some convincing that it was a serious request.
He also did the sculpture, Partners, that has Walt and Mickey holding hands.
The Haunted Mansion, Pirates of the Caribbean, and other figures also relied on his sculpting talent.
I wonder how many more of the rides and attractions with your sculpted heads will be made into movies?
Hall of Presidents? Partners?
Way back in fourth grade we had to write a letter to someone and have them write us back. Getting a letter back from a real Disney artist with a sketch of Mickey Mouse and Donald Duck on official Imagineer paper was a big hit. I wish I still had his letter. I do still have the sketches.
Cousin Blaine will be missed. He was the last of his generation on that side of the family.
As the keeper of the family tree started by my parents, it is with sadness that I enter the last piece of information about Blaine. He is survived by his son and grandson, who will miss him most of all.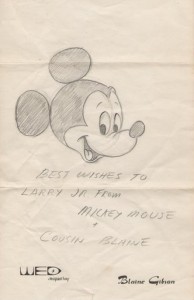 Several news outlets mentioned him:
http://www.ocregister.com/articles/disney-670361-walt-sculpted.html
http://paleofuture.gizmodo.com/blaine-gibson-designer-of-lifelike-robots-at-disney-pa-1716008151
http://www.huffingtonpost.com/2015/07/06/blaine-gibson-dead_n_7732992.html
http://www.themeparkinsider.com/flume/201507/4646/
http://thedisneyblog.com/2015/07/05/disney-legend-blaine-gibson-has-died/
He doesn't have his own Wikipedia page, but has an IMDB and d23 pages, and is mentioned on lots of other Wikipedia pages.
http://www.imdb.com/name/nm0316863/bio?ref_=nm_ov_bio_sm
https://d23.com/blaine-gibson/
https://en.wikipedia.org/wiki/Great_Moments_with_Mr._Lincoln
https://en.wikipedia.org/wiki/Disney_Legends
https://en.wikipedia.org/wiki/List_of_Disney_Main_Street_window_honors
https://en.wikipedia.org/wiki/Deaths_in_2015
https://en.wikipedia.org/wiki/The_Hall_of_Presidents
https://en.wikipedia.org/wiki/The_Disney_Gallery
https://en.wikipedia.org/wiki/It%27s_a_Small_World
https://en.wikipedia.org/wiki/List_of_Haunted_Mansion_characters
https://en.wikipedia.org/wiki/Disney_Partners_Statue