I managed to get a gold badge for this year's Gary Con, which means that you get into two special event games.  This year, one of them was Frank's game. I had interacted briefly with Frank at Gary Con last year, and at Gamehole Con IV last November.
This year, I made it to Frankenparty IV, a party that Frank and his wife Deb host in their home. They only ask to follow their wishes about parking and a small donation to offset the costs of food. I touched on this in my Gary Con wrap-up post.
Frank's game was very informal and I found it enlightening to see how one style of original play was handled. We only needed three dice, d6, d10, and d20. He provided pregens, which speeded preparations/play. Being 0D&D d6 for all damage, and d20 for combat.
He had us use the d10 to resolve things that had a chance of failure. through mutual negotiation and explanation of what our characters did, Frank would have us call high or low before we rolled the d10. Frank said that that is what they did before they started developing rules for things. He also had us use THAC0, which he said started in Lake Geneva and he thinks is a quick way to know if you hit.
I really like that. That is something that many in the OSR are going back to, such as Swords & Wizardry Light, and others. I have a love for AD&D, but there are so many rules, that rules lawyers bog down play if a DM doesn't have the skill to move things back to the game. I'm slightly guilty of that, but I try to ask clarifying questions, and shut up, since I believe each DM/GM has the right to run their game to their preferences.
With old school, you only need a roll where there is a chance of failure, such as combat, or leaping over a pit in full armor. This gives more focus on roleplaying and moving the adventure along.
Frank also talked about four levels of crosstalk at the table. I tried to take notes, but don't have it exactly as he described it.
They are:
Players
Characters
Meta(game)
Meta(world)
Old school play is reliant on player skill, so what many call "metagaming," is encouraged, at least by Frank.
The scenario was set in the world of Disney's Maleficent. That description of the movie/cartoon set the tone and we all had a mental image. No minis, just a written marching order on a 3×5 card.
Frank did use 3 six-sided weather dice and used the average for weather. Very quick and easy. He also told us when we were doing something that might get us killed, and commented on our choice of tactics. He gave us a chance to adjust, but we could have easily gotten killed in a fight.
At one point, one of our magic users used sleep on an opponent and all the crows in a tree fell down. I really liked the "rain of murder". A day or two later I mentioned to Frank how much I liked that. He said that I was the only one who laughed at his jokes. Some were pretty subtle, but that's a style of humor I also like.
Frank also shared his original campaign maps, which will help inform Darlene when she does the maps for his upcoming Kickstarter. I'll be bringing that to your attention when I get word of its launch.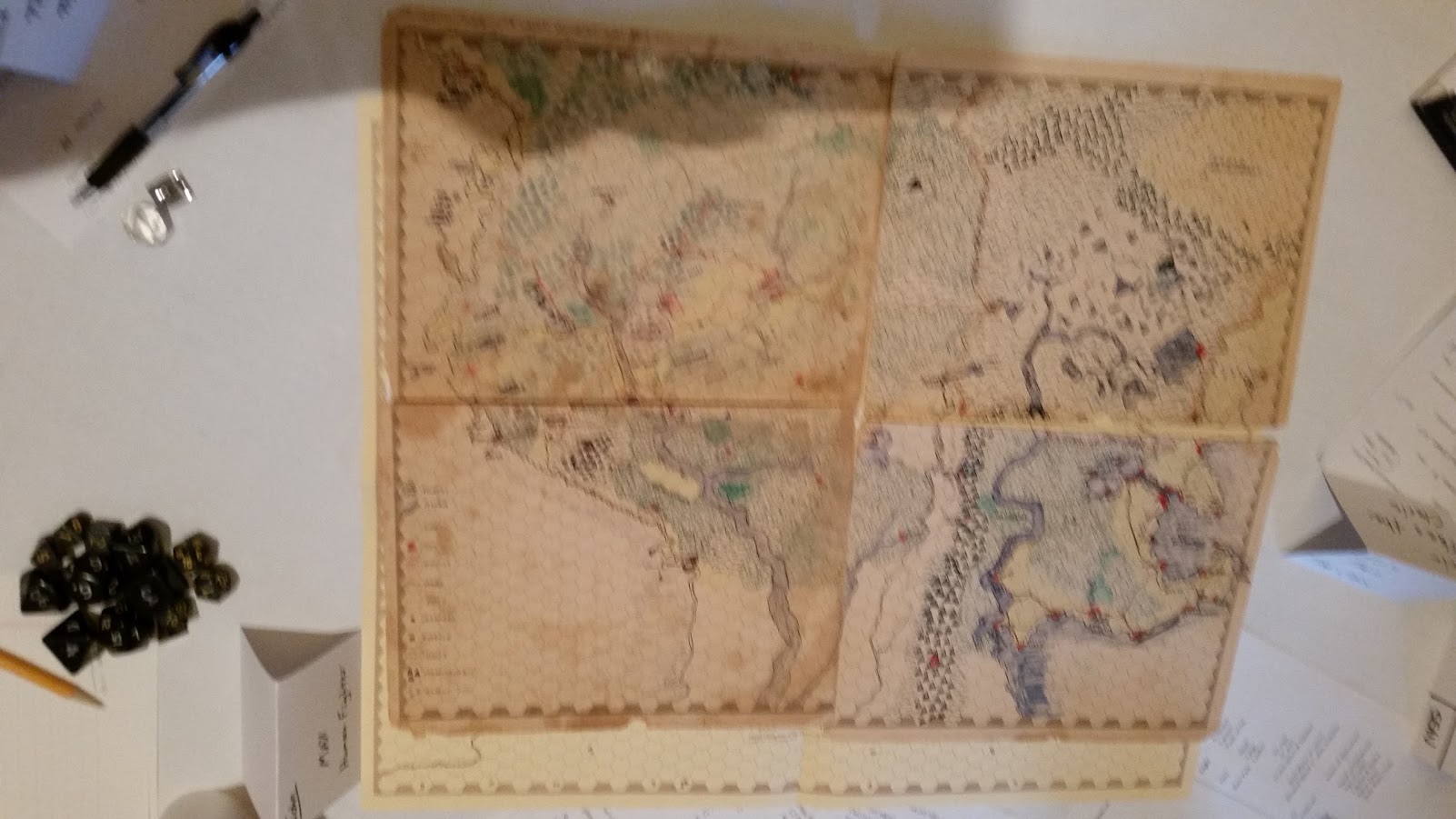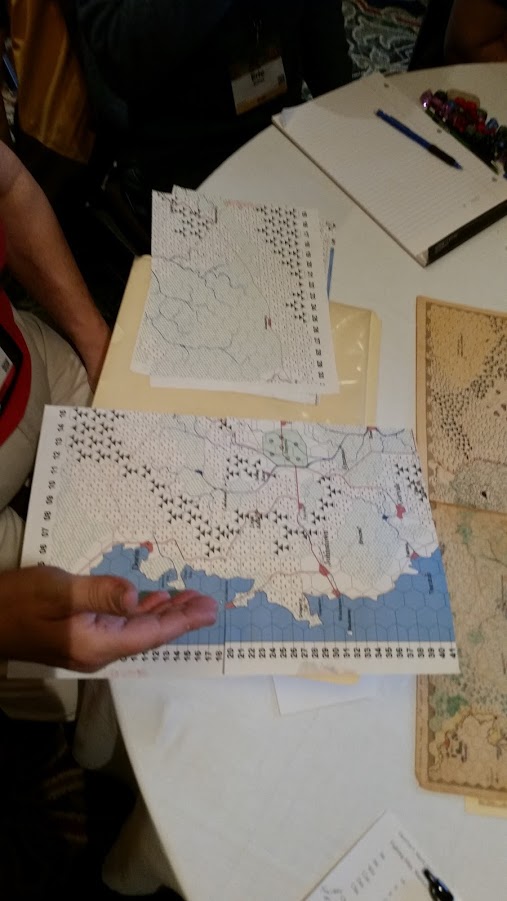 After the game he signed my character sheet and name card. I played a dwarf, so I named him after the dwarf in the AD&D Roll20 campaign that hit three years and 148 sessions last week. I shared that on our Google Community page for the campaign. The guys like that.