Today was an awesome day of gaming!
I usually either play or run on Roll20 noon to 4. The GM for today had to call off due to illness.
I wasn't worried. I had an offer to play test my new card game idea at the FLGS, Fanfare. A new game I wrote about a couple weeks ago. I just got the play test deck I ordered yesterday.
It is a game that I thought would work for 2-6 players. I two person game is obviously different with the card flow, etc. It took about 90 minutes with figuring out a couple workarounds for things that were unclear in the initial rules.
I ended up with valuable feedback, and a real basis to evaluate my game idea. It amazed me that the game played almost exactly the way I imagined it. I can see the play of this game in my mind's eye. I very rarely have such clarity with an idea, and even more rarely manage to execute it in the real world. Talk about happy. Thanks to Joel, Playtester #1!
Running Metamorphosis Alpha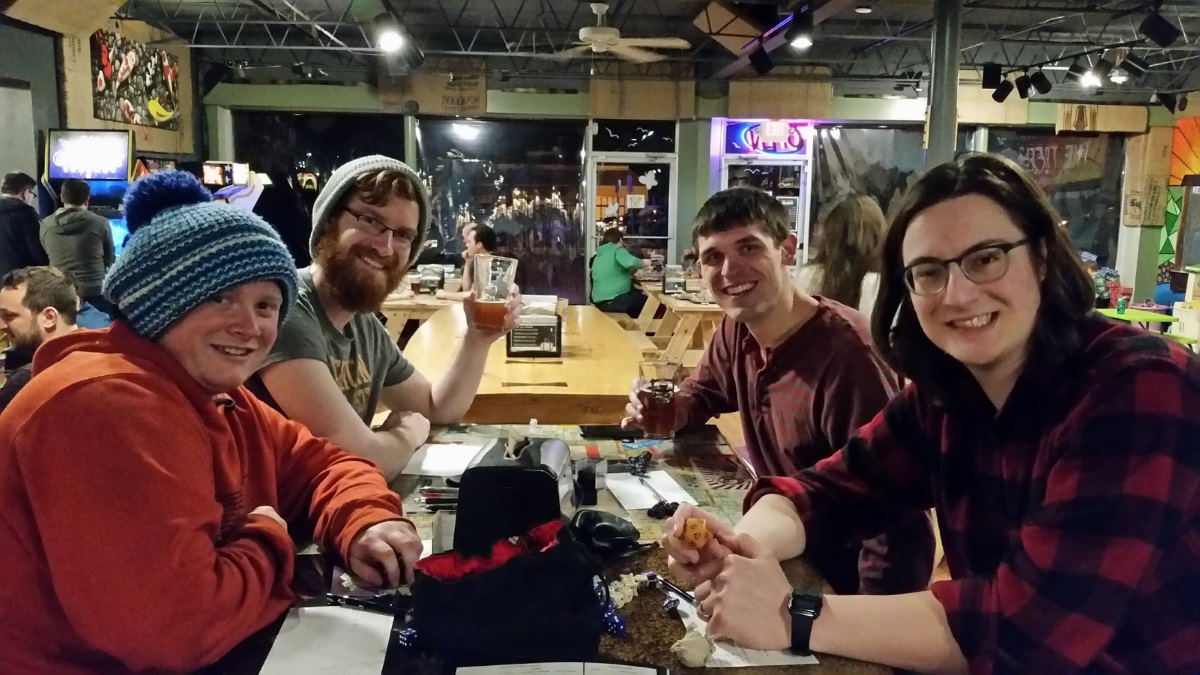 Since my chance to play on Roll20 got cancelled, my first play tester's friends were free after 5:00 PM, so I went to a game friendly brewpub, One Well Brewing. I ran my Metamorphosis Alpha [Affiliate Link] scenario, Red Shirt Metamorphosis, that I have ran online a couple times, and at UCon a couple years ago. I'll next run it at Marmalade Dog at the end of March. Four players new to Metamorphosis Alpha [Affiliate Link] and several new to old style play or seeking old school simplicity.
They were not used to player knowledge and common sense questions being the way to approach the situation. I gave them "hot stove moments" where they had missed obvious questions to ask. There were too used to GMs spoon feeding them everything. Once they realized the initial conditions I set was not 100% of the available environment, they got into it. They "beat" the scenario by achieving the goal of a four hour convention setting in 3 hours. They had more gear in spite of having worse rolls to set the initial conditions of the scenario. We exchanged contact information and will work on setting up a game.
Play Test Number 2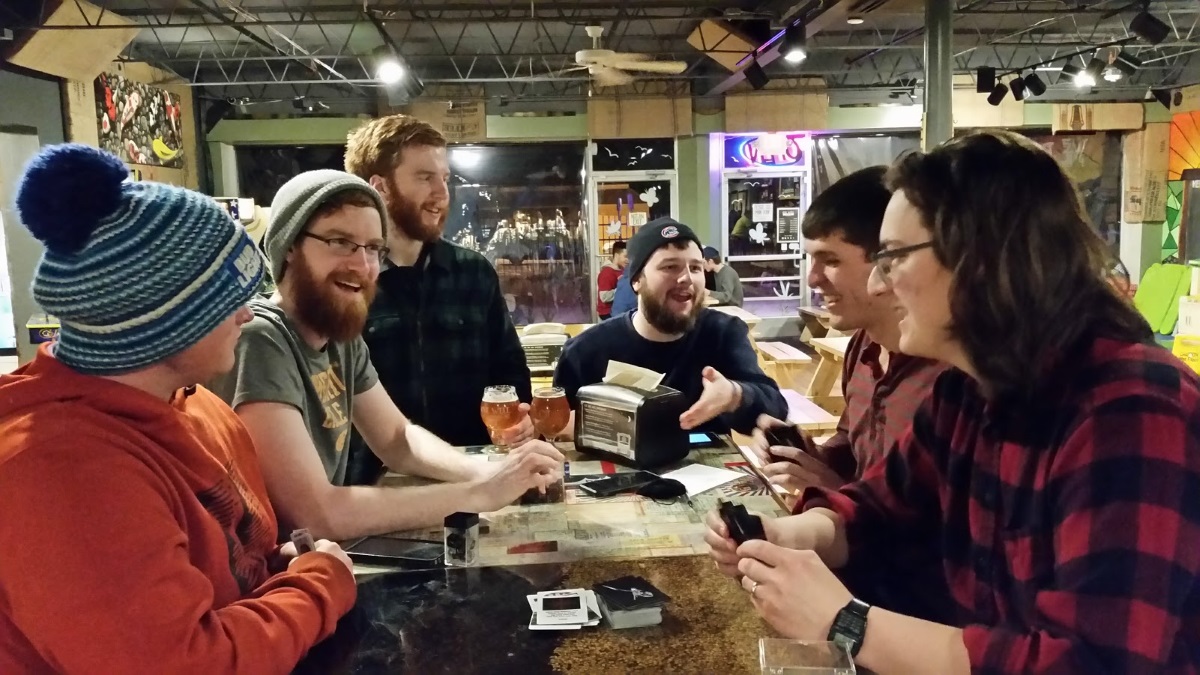 After the game, I mentioned my card game and they were eager to try it. So I had 4 players, and Joel, play tester number 1, was one of them. With me, we had 5 players. This made the game take about 45 minutes and we did a lot of talking and figuring out a few of the situations that arose to either adjudicate, or consider a rules revision.
Once again, I did not win, but I didn't care. People were playing my game! Not only that, they liked it! Each of them said if this was a Kickstarter, they would back it! I suspected it was good enough for Kickstarter. By that I mean, a solid idea that can have the rough edges worked out through more play testing. If I do my job right and iron out all the details, a Kickstarter to fund art should easily fund, and could do better than I expect.
More valuable feedback was given. The two best, or my favorite comments:
From Jake from the second play test game, when I asked what he liked the best about it. "Playability – You can pick it up and be playing quickly."
Joel, the most experienced player next to me, after two games said, "The light learning curve."
Jake was really excited, and knows a lot of student artists who might be interested in doing art for the cards. I'm glad to consider new artists, if their art style is what I'm looking for. If my efforts can get them exposure and regular work, even better.
I'm bringing my play test deck to Gary Con, and if you're around when I'm not running or playing, we can definitely play. I'll be there sometime Wednesday, which reminds me I need to figure out travel plans with my roommate for the weekend. We have yet to set a time to leave.
This is so cool!