I ordered a Dieties & Demigods with the Cthulhu and Melnibone mythos from Wayne's Books on Wednesday evening, October 29th, and it arrived on my doorstep today, Saturday, November 1st! I am sure it made it to me so quickly is that I live in the lower penninsular of Michigan, which is the Eastern Time Zone, and Wayne's Books is in Arizona, which is in the Mountain Time Zone, so a one or two hour difference. Wayne commented on my article that it was being shipped that same day! Excellent service!
Below I will have pictures of the unboxing, the contents, and a group picture with the DDG from my son. My son got home from work about two hours after I placed my order, and gave me a belated birthday present. We had a big laugh about that!
Below you will see what you can expect when you order something from Wayne's Books.
The self-sealing box from the USPS was also well taped with packing tape. It wasn't coming open without some effort, and care!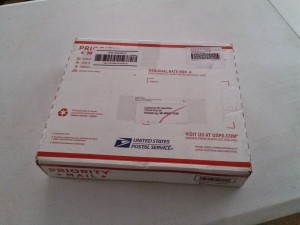 It was packed tight with cardboard and paper grocery bags, so it had no wiggle room.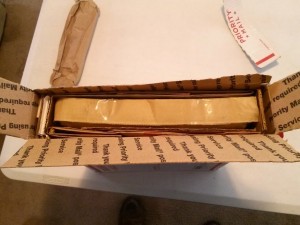 Here's all the packing material. It is obvious that it needs to come out before the book, so the book comes out easily.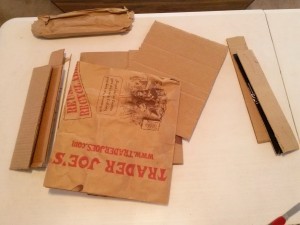 The book is in a plastic protective cover that is taped shut then placed inside a UPS padded mailing envelope.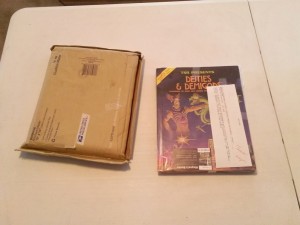 The book before the final layer is removed. This is kind of like those Russian dolls….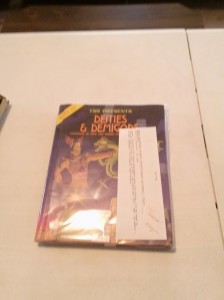 Taped to the plastic book protector is the packing slip with a handwritten note of thanks.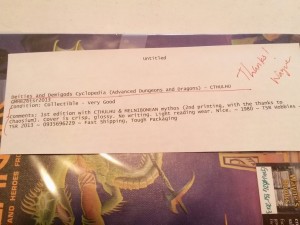 Inside the plastic protective cover is a business card with notes on this order. This is a very good idea! Others who ship things should do this.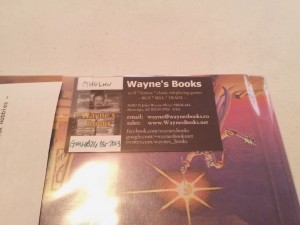 At first I wondered if this was a catalog, but soon saw it was a module or something. Was this a mistake? I didn't order this!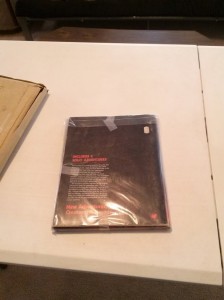 No, it's not a mistake.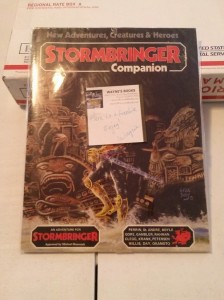 Woo hoo! Free stuff! I read a couple of the Elric books way back. I don't recall details. This looks interesting and has some cool art. I'll add this to my reading list.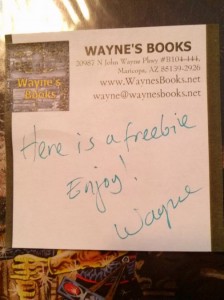 Finally, my new books side by side. The one from my son on the right, and the one I ordered on the left. The quality of the book I got from Wayne's Books matches what he advertised, and it is in noticeably better condition than the one my son got me, but the one my son got me had a kid's name on the front and it was obvious that it had been used at the table, or at least was well read.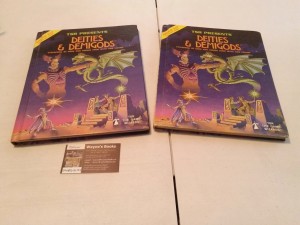 The one I bought is going back in the plastic sleeve, just in case.
I really liked the art of the Cthulhu and Melniboe mythos, plus there are some cool critters and ideas in there. I'm not sure I'll ever get to use them in my campaign world, but you never know.